Trending:
Quick pickled cabbage with peppers that turns out crispy and sweet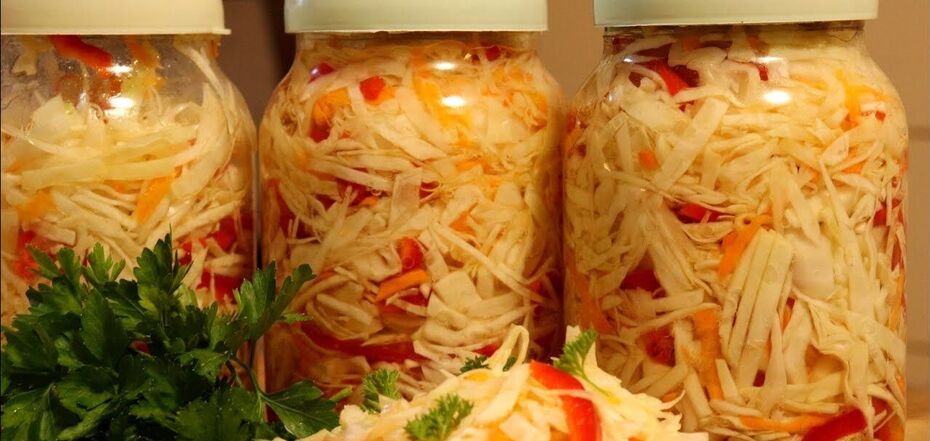 Pickled cabbage with peppers and carrots. Source: Screenshot from a YouTube video
Pickled cabbage is a delicious, quick-to-prepare appetizer at home. To make the dish sweet, you should add bell peppers and carrots to the cabbage and make a good marinade.
Food blogger Iryna Yesman (iryna_yesman-food) shared a recipe for pickled cabbage with bell peppers in 6 hours on her Instagram page.
Ingredients:
cabbage - 2 kg
bell pepper - 500 g
carrots - 500 g
onions - 2-3 pieces
Marinade:
water - 500 ml
sugar - 5 tbsp
vegetable oil - 6 tbsp. l.
vinegar - 6 tbsp
salt - 1 tbsp
peppercorns
bay leaf
Method of preparation:
1. Chop cabbage, grate carrots, cut bell pepper into strips, and cut onion into half rings.
2. Mix all the prepared vegetables and put them in jars, but do not tamp them down too much.
3. To prepare the marinade, pour water into a saucepan and bring it to a boil.
4. Add the remaining ingredients to the boiling water and bring to a boil again.
5. Fill the jars with the hot marinade, cover and leave to stand for 6 hours. Store in a cold place. Enjoy!
You can also find more recipes on OBOZREVATEL: