Trending:
Purple cabbage "Petal" in 3 days: a recipe for a crispy and tasty appetizer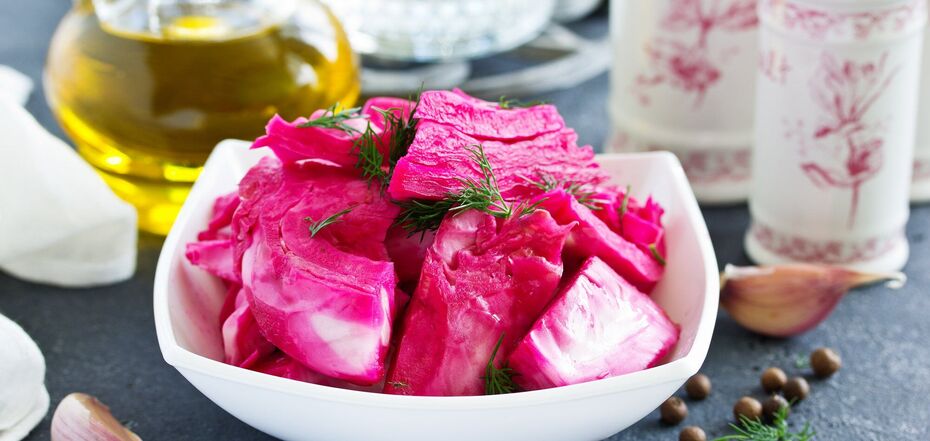 Pickled purple cabbage. Source: depositphotos.com
Pickled cabbage "Petal" is a delicious and crispy appetizer that is quick to prepare. Traditionally, it is prepared with carrots, garlic, and always beets, which give the cabbage a rich purple color. This dish is perfectly stored in the refrigerator and goes well with all side dishes.
Food blogger Marianna Ryzhman (kitchen_ladyboss) shared a recipe for pickled cabbage "Petal" in three days on her Instagram page.
Ingredients:
cabbage - 1 kg
beets - 2 pcs
carrots - 1 pc
parsley - a bunch
garlic - 1 head
Marinade:
water - 1 liter
sugar - 4 tbsp. with a slide
salt - 2 tbsp
bay leaves - 3 pcs
black peppercorns - 10 pcs
vinegar - 100 ml
Method of preparation:
1. Wash the cabbage, remove the head of cabbage, cut into large pieces similar to petals.
2. Peel the beets and cut into slices, cut the carrots into strips, peel the garlic.
3. Put the prepared vegetables with parsley in layers in a jar or container.
4. To prepare the marinade, pour water into a saucepan, add sugar, bay leaves, pepper and salt. Put on the fire and bring to a boil.
5. Pour the vinegar into the boiling marinade and remove from the stove. Pour the marinade into the container.
6. Put a press on top of the cabbage, close the lid and put it in a cold place for 3 days. It's ready!
You can also find more recipes on OBOZREVATEL: