Trending:
Puffy seasonal muffins with blueberries: a delicious crispy crust on top.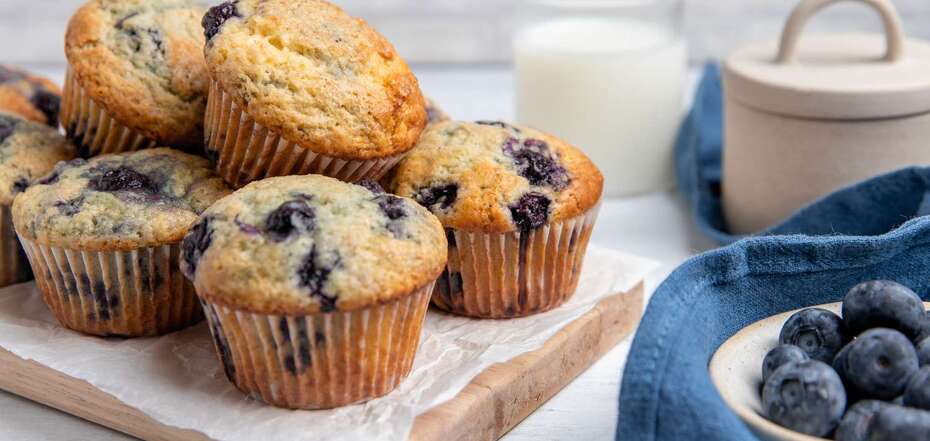 Puffy muffins with blueberries. Source: southernliving.com
With seasonal blueberries, you can prepare very simple sweet muffins. Such baking is ideal if you need to make something for tea very quickly. The dough turns out very soft and juicy.
The idea of cooking puffy muffins with blueberries is published on the Instagram page of food blogger TatianaSheremet (tania_sheremet_). For an appetizing crust, sprinkle the muffins with crunchy crumbs on top.
Ingredients:
butter - 80 g
sugar - 280 g
eggs - 3 pcs
butter - 70 ml
milk - 140 ml
vanilla extract - a few drops or 5-10 g vanilla sugar
flour - 365 g
leavening agent - 10 g
pinch of salt
blueberries - 150-200 g
Method of preparation:
1. In a bowl, place butter and sugar and whisk.
2. One at a time, add the eggs, then pour in the vegetable oil, milk, and vanilla extract.
3. Mix everything well.
4. Separately mix the flour, baking powder and salt.
5. Sift into the liquid mixture, mix until smooth.
6. Then add the blueberries, mix again and fill the molds 2/3 full. Sprinkle with the crumbs.
Ingredients for the crispy crumble:
100 g flour
50 g sugar
4 tbsp melted butter
Method of preparation of crispy crumbs:
1. Mix sugar with flour.
2. Add butter, mix into crumbs.
We put the muffins in a preheated oven to 190 degrees for 30 minutes. But orient yourself according to your oven.
Also on OBOZREVATEL you can read the recipes: