Trending:
Pickled sweet peppers for winter: how to prepare them in a delicious way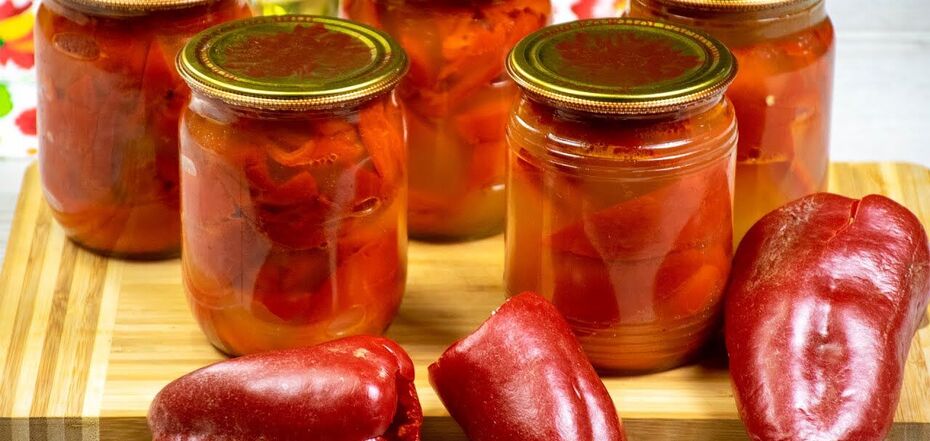 Pickled sweet pepper. Source: Screenshot from a video from the GoToYou YouTube channel
Pickled peppers are a budget-friendly independent appetizer and addition to other dishes: mashed potatoes, meat, pasta and porridge. You can canned sweet bell and chili peppers. Vegetables are supplemented with a mixture of spicy spices, they turn out crispy and at the same time tender thanks to the marinade.
FoodbloggerOksana Dorosh (oksana_dorosh_rezeptu) on her Instagram page shared a recipe for pickled sweet peppers with tomato paste for winter.
Ingredients:
bell pepper - 3 kg
salt - 2 tbsp.
sugar - 1 tbsp.
vinegar - 1 tbsp.
tomato paste - 1 tbsp.
water - 1 tbsp.
vegetable oil - 1 tbsp.
Method of preparation:
1. First, rinse and peel the peppers from the core and seeds. Cut into equal pieces and put them in the pot.
2. Add the rest of the ingredients to the pepper: salt, sugar, vinegar, tomato paste, water and oil. Put on the heat, bring to the boil and simmer for 20 minutes on low heat.
3. Then remove the pan from the heat and place the hot peppers into dry jars.
4. Put the jars in a pot of water, the bottom of which is covered with a towel. Sterilize the peppers for 20 minutes from the moment of boiling.
5. At this step, roll up the peppers with lids. Done!!!
Also on OBOZREVATEL you can read the recipes: