Trending:
Pickled garlic in red currants for the winter: how to prepare a snack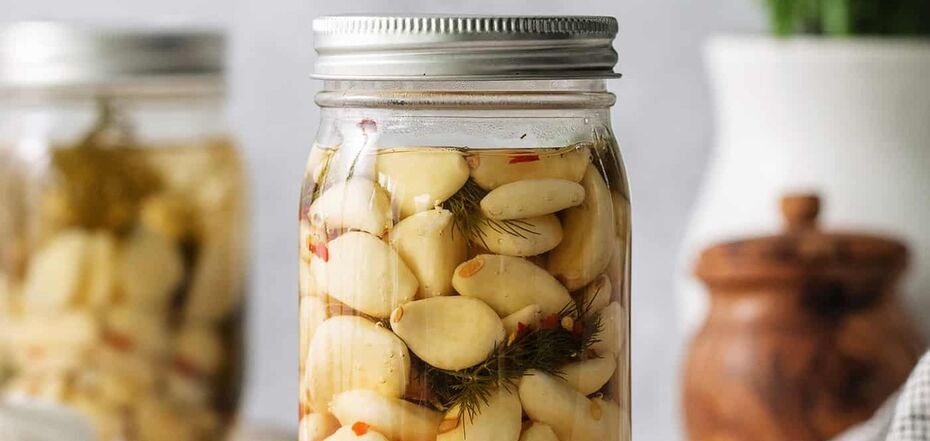 How to pickle garlic deliciously for the winter. Source: afarmgirlsdabbles.com
Pickled garlic is a savoury snack that will be a great addition to meat and a variety of your favourite dishes in winter. The product retains its spicy flavour, remains crispy and slightly sweet. After cooking, it can be eaten in three months.
The idea of cooking pickled garlic in red currants was published on the Instagram page of food blogger Yulia with the nickname juli_co.ok. All the ingredients are very simple.
Ingredients:
12-14 heads of young garlic
500 g red currants + a few handfuls on the sprigs
3 tbsp. salt
6 tbsp. sugar
handful of black pepper peas
cup of 9% vinegar (250 ml)
Method of preparation:
1. Divide the garlic into cloves, leave only 1 layer of husk or remove it altogether (if you remove it, it will have a blue tint).
2. Put the garlic in sterilised jars, sprinkling with bunches of currants.
3. For the marinade, cover 500 g of currants (without branches) with up to 1 litre of water (in a measuring cup or a labelled saucepan).
4. Add half the sugar and salt, all the pepper.
5. Bring to a boil.
6. Cook for 5 minutes.
7. Press the berries, cook for another 2 minutes.
8. Strain, return the marinade to the pan, add the remaining sugar, salt and vinegar.
9. Bring to a boil and cook for 1 minute.
10. Pour the garlic with the boiling marinade, close the lids.
11. Turn over, let cool, put in the fridge or basement, cellar.
12. after 3 months, the garlic is ready. This portion makes 3-4 0.5-litre jars.
You can also find more recipes on OBOZREVATEL: