Trending:
Pickled cucumbers will not lose color and will be crispy: how to prepare them correctly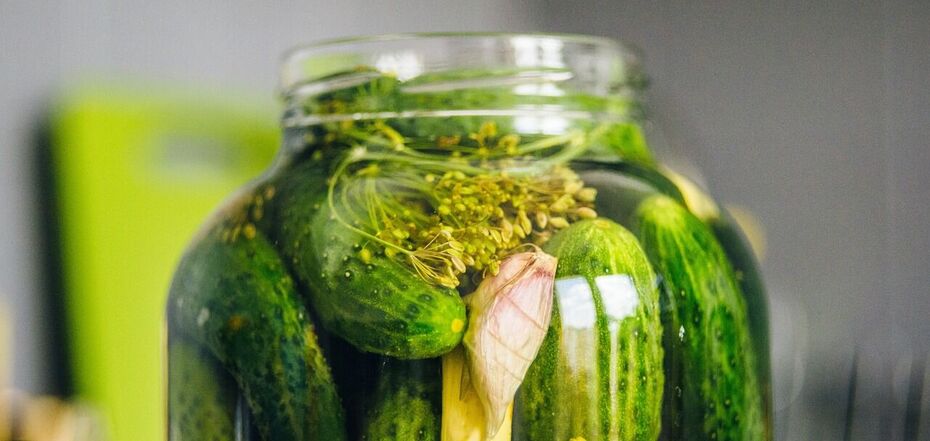 Homemade cucumbers pickled for the winter. Source: pixabay.com.
As a rule, pickled cucumbers often become dull, soft and lose their firmness after pickling. However, there is one simple flyhack that will help to avoid such consequences. At the same time, the marinade or brine in which you cook cucumbers does not matter.
FoodOboz editorial staff has collected information for you and will tell you how to properly prepare cucumbers for pickling, so that they are crisp and do not lose color.
How to properly prepare cucumbers?
1. First, you need to put the cucumbers in some deep container.
2. Mix hot water and salt (in the proportion of 10 liters of water 500 g of salt). With the resulting liquid, pour the cucumbers.
3. After this procedure, the cucumbers will need to be immediately transferred to a container with ice water. For best effect, you can put ice in the water.
4. At this stage, you can proceed to pickling.
Thesecret: thanks to such a sharp temperature change, vegetables will retain their taste, elasticity and color even after pickling. On the taste of such manipulations will not affect in any way.
Popular cook LiliaTsvet on her channel(Lilia Tsvit) in YouTube shared a recipe for pickled cucumbers.
Ingredients:
dill florets - 1 pc
bay leaf - 1 pc
horseradish root - 2 cm
parsley root - 2 cm
garlic - 4 cloves
aromatic pepper - 3 pcs
coriander - a pinch
mustard - 0.5 tsp.
cloves - 1 pc
For the marinade:
sugar - 1 tbsp.
salt - 1 tbsp.
vinegar - 2 tbsp.
Method of preparation:
1. Rinse cucumbers and soak in cold water for 1 hour. Cut off the ends of each cucumber.
2. At the bottom of the jar lay out all the necessary spices and herbs. Tamp the cucumbers.
6. Close the jars with lids. Turn the jars upside down, cover with something warm and leave for 1 day.
Also on OBOZREVATEL you can familiarize yourself with recipes: