Trending:
Pickled cucumbers for winter without vinegar: taste like barrel ones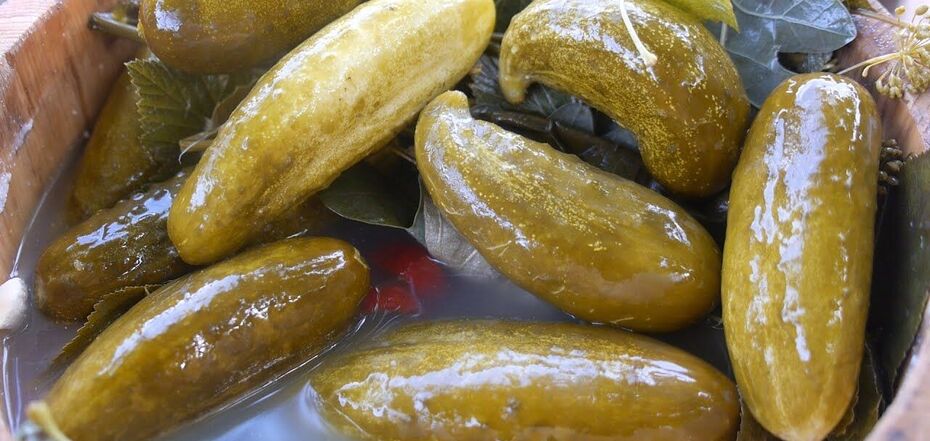 Pickled cucumbers. Source: Screenshot from the video from the channel ''Our Besagi'' in YouTube
Pickled cucumbers are a very practical way of pickling vegetables for the winter. As a rule, they are prepared without vinegar, thanks to which they turn out juicy, crispy and elastic. In addition, even more useful. Also, the preparation is perfectly preserved even at room temperature.
Food blogger Galina Duma(reeixit) shared a recipe for sour cucumbers without vinegar on her Instagram page.
And the ingredients for a 3-liter jar:
cucumbers 1.5-2 kg
water - 1.7 liters
salt - 2 tbsp.
sugar - 1 tbsp.
garlic - 4-5 cloves
dill umbrella - 3-4 pcs
cherry leaves, horseradish leaves - 3-4 pcs each
peppercorns - 6-7 pcs
allspice - 5 pcs
Method of preparation:
1. Place garlic, cherry leaves, horseradish leaves, dill sprigs and all the necessary spices in a clean jar.
2. Wash the cucumbers thoroughly and pack them into the jar.
3. Fill the jar with cucumbers with cold water. Cover the container with a lid and place on a plate (this is necessary because the juice from the jar in the process of souring will pour out). Leave the cucumbers in this form for 4 days.
4. After 4 days, drain the marinade from the jar into a saucepan, place on the fire and cook from the boil for 5 minutes.
5. While the marinade is boiling, pour steep boiling water over the cucumbers in the jar.
6. When the marinade boils, drain the water from the cucumbers and fill the jar with hot marinade. Close the jar tightly with a lid and cover with something warm until it cools down completely. Done!
Also on OBOZREVATEL you can read the recipes: