Trending:
Perfect Napoleon Cakes: won't crumble or get stale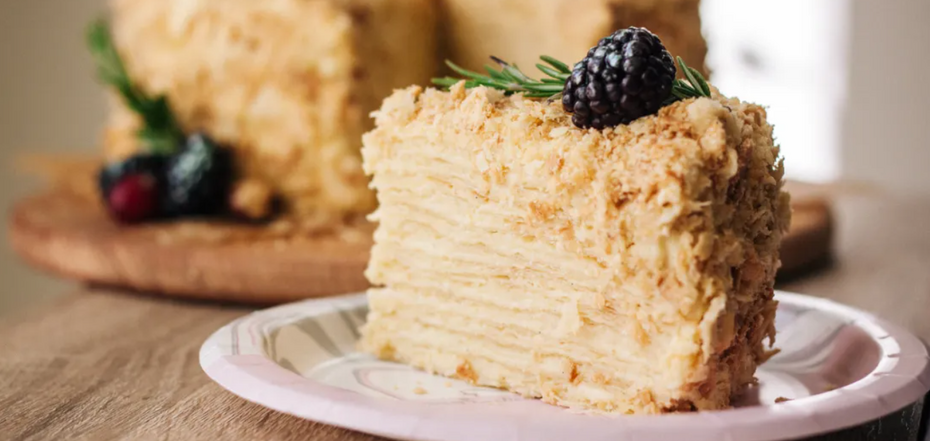 Napoleon Cake Recipe. Source: bake-no-fake.com
Napoleon cake is one of our favorite desserts. It is based on thin sheet cakes and an airy custard.
Food blogger Oksana Plingey(ksu_foodbloger) on her Instagram page shared the recipe for the perfect Napoleon cakes, in the batter for which she advises to add vodka. This will prevent the cakes from crumbling, tearing and stale.
Ingredients:
butter or margarine - 200 g
flour - 500 g
eggs - 1 pc
9% vinegar - 1 tbsp.
vodka - 2 tbsp.
Method of preparation:
1. Sift the flour into a bowl and add the chopped butter. Grate everything with your hands until crumbly.
2. Separately mix the egg, vinegar and vodka. Mix and pour the mixture into the flour. Knead the dough. It is easy to knead, it is soft and elastic.
3. Next, place the dough on a work surface. Roll out into a circle and fold the two halves inside. It should look like a so-called square. Then fold the two parts of the resulting square inside again. Roll it out and repeat the process of assembling and unrolling about 5-6 times more.
4. After that, you need to transfer the dough to a bowl, cover with cling film and leave in a cold place for several hours.
Previously OBOZREVATEL reported how to cook "Napoleon" from cookies.