Trending:
Peach tiramisu in 20 minutes: how to make a spectacular seasonal dessert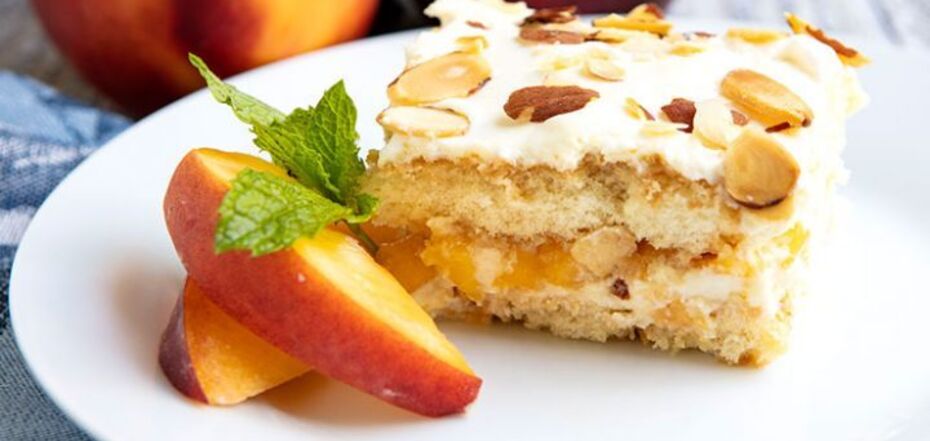 Delicious tiramisu with peaches. Source: italianfoodforever.com
When the strawberry season is almost over - peaches ripen. And this is another fruit with which you can prepare a delicious tiramisu. The dessert turns out very tender, airy and moderately sweet. In addition, you will prepare it in just 20 minutes.
The idea of cooking peach tiramisu is published on the Instagram page of food blogger Anastasia with the nickname anny.cooking. You can put mint on top.
Ingredients per 20*30 cm mold:
24 pcs(1 pack) savoiardi cookies
500 g peaches + 2 tbsp powdered sugar
350 ml heavy cream (33%)
500 g mascarpone
80-100 g powdered sugar + 4 peaches and mint to decorate the cake
Method of preparation:
1. Beat the peaches and powdered sugar with a blender, rub through a sieve to remove the skins. If you do not plan to give the dessert to children, you can pour 30-40 ml of amaretto into the peach puree.
2. Beat very cold heavy cream with a mixer with powdered sugar to soft peaks, add mascarpone and beat for another 1-2 minutes until fluffy.
3. Dip the savoiardi in the puree, place in mold, spread 1/2 of the cream on top, and again the savoiardi, again the cream.
4. Cover with foil and place in the refrigerator.
5. Decorate the dessert with peaches and mint. It needs to be eaten quickly, so if making for just two people, make 1/2 serving.
Also on OBOZREVATEL you can read the recipes: