Trending:
Pancakes that can be fried in a dry frying pan: how to prepare the dough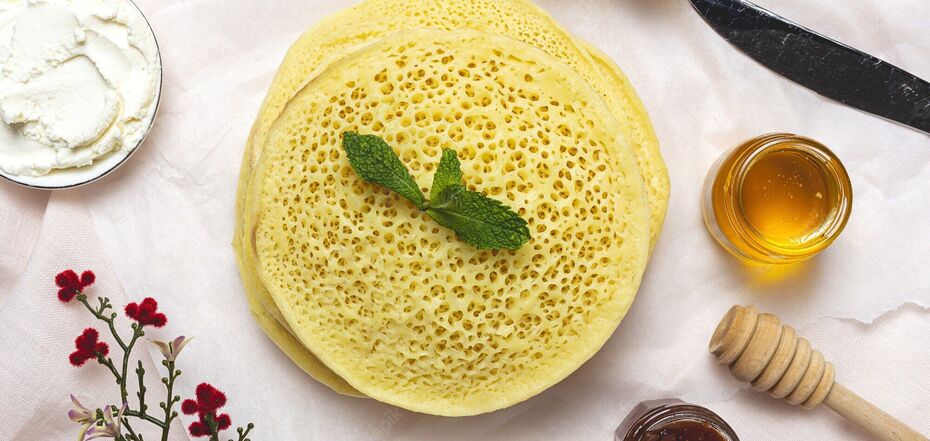 What to cook pancakes with so they don't tear. Source: freepik.com
If you fry pancakes without a drop of oil, they will be much healthier. Therefore, it is a very good idea to make Moroccan pancakes. They are based on dry yeast and flour combined with semolina. The dough is very dense and airy. It can be fried in a dry frying pan.
The idea of making Moroccan pancakes fried in a dry frying pan was published on the Instagram page of food blogger Yulia with the nickname zefirok_recipes. Any sweet filling is suitable for these pancakes.
Ingredients:
semolina - 250 g.
flour - 40 g
sugar - 3 tbsp
salt - 1/4 tsp.
dry yeast - 5 g
baking powder - 10 g.
warm water - 500 ml (40 degrees)
filling to your taste (I have almond and peanut butter and fruit)
Method of preparation:
1. Combine all the dry ingredients and mix well.
2. Next, pour in the water and blend for 2 minutes.
3. Cover with a towel and leave for 15 minutes.
4. Fry the pancakes in a dry frying pan over low heat on one side only until cooked for 2-3 minutes (the bubbles should burst and the top of the pancake should be dry).
5. It is better to do it on two pans at once to make it faster.
6. Immediately put the filling on the still warm pancakes and mold them like dumplings.
7. The filling can be any: peanut butter with banana, cottage cheese with raisins, jam, chocolate paste, etc.
You can also find recipes on OBOZREVATEL: