Trending:
Original raspberry tiramisu without eggs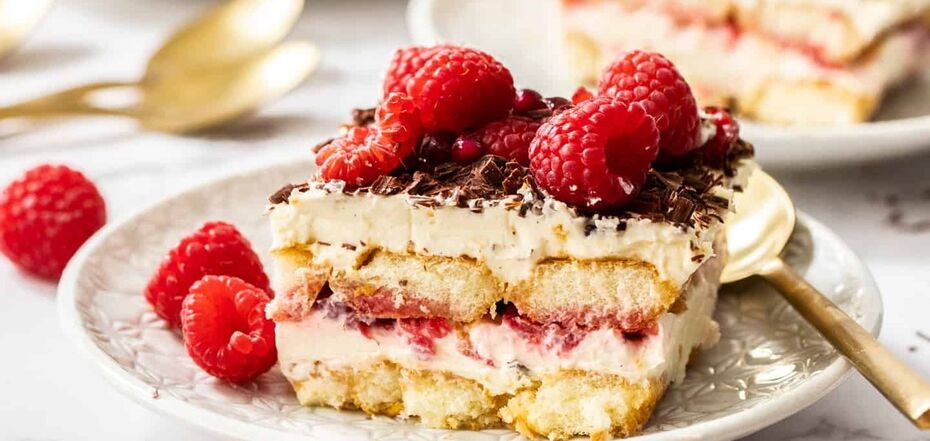 Summer tiramisu with raspberries. Source: sugarsaltmagic.com
Tiramisu is often prepared with strawberries or peaches in summer. Now it is the turn of raspberries. The berry is moderately sweet, with a slight sourness. That is why it combines with delicate savoyardi cookies perfectly.
The idea of making raspberry tiramisu was published on the Instagram page of food blogger Valyria Demchuk (mrs.demenchuk). The dessert is completely safe because it is prepared without using raw eggs.
Ingredients:
raspberries 175 g + 1 tbsp powdered sugar with a slide
raspberries 130 g + 1 tbsp. powdered sugar (for filling inside)
mascarpone - 250 g
cream 33% - 150 ml + powdered sugar 50 g
Savoyardi cookies - 13 pcs\
Preparation method:
1. Beat the raspberries (175 g) with powdered sugar with a blender until smooth. This is the base which we will dip the cookies into.
2. Separately beat the raspberries (130 g) with powdered sugar in a blender.
3. Whip cold cream with powdered sugar to soft peaks, add mascarpone and whip for about 3-5 minutes until smooth and thick.
4. Moisten the savoiardi in the puree, place in the mold.
5. Spread 1/2 of the cream on top, put the cookies soaked in puree, spread the rest of the cream, cover with cling film and put in the fridge overnight.
6. Decorate as desired.
Also on OBOZREVATEL you can find recipes: