Trending:
Nourishing Kaleidoscope salad for every day that is easy to prepare at home and in nature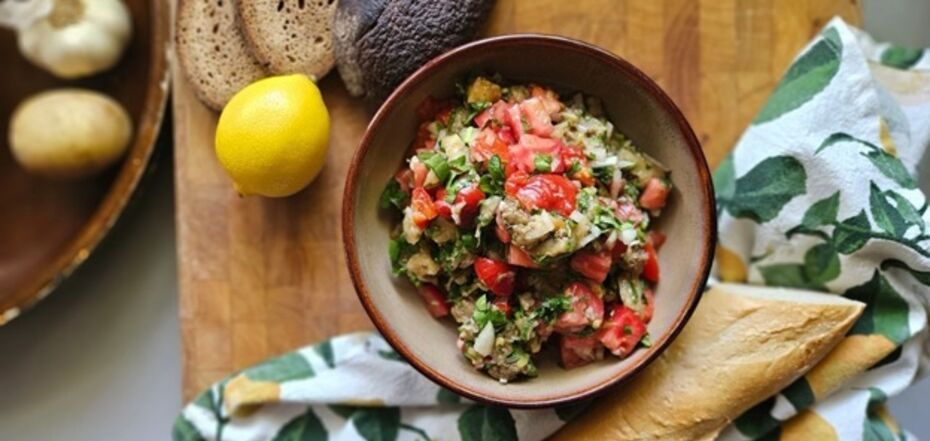 Nourishing Kaleidoscope salad for every day that is easy to prepare at home and in nature
Two things have been surprising me in the online culinary space lately. The first is that there are still so many recipes for mayonnaise salads. The second is that Ukrainian chefs and bloggers use ready-made sauces like "spicy tomatoes" in their recipes. In my opinion, this is a good example of how Ukrainian cuisine has "suffered" from Soviet influence and mass-market products for the last 100 years. Let's fix it together! Here is a recipe for a fresh, nourishing salad for every day, which can be served both at home and in nature.
Preparation time: 1.5 hours.
Portions: 4
Complexity: easy
Ingredients:
- 1 large eggplant
- 1 sweet pepper
- 1 large tomato
- two bundles each: dill, parsley, cilantro (fresh basil can be added)
- small onion
- 1 lemon
- 100 ml. of sweetened sunflower or olive olive oil
- salt to taste
1. Prepare the ingredients. Bake eggplant and peppers. You can do it in the evening so that it will take 5 minutes to prepare the salad the next day. I bake vegetables without olive or salt and without covering with anything for about 50 - 60 min. at a temperature of 200 degrees Celsius or until fully cooked. If you are outdoors, I recommend wrapping the vegetables in foil and baking for 30-40 minutes or until all the insides are soft. Why is it better to do it later? We are going to remove the skin from the vegetables, and it is not very pleasant to do it with bare hands, so let them cool down.
2. The vegetables should not be sliced too much; after all, this is a salad, not a vegetable caviar. We want each ingredient to shine brightly, not mixed into an irregular mass. Add juice of one lemon, dress with olive oil and salt to taste. This salad for a light lunch is ready to complement kebab or steak.
Tasty!