Trending:
Nourishing Greek moussaka with zucchini, eggplant and meat: enough for the whole family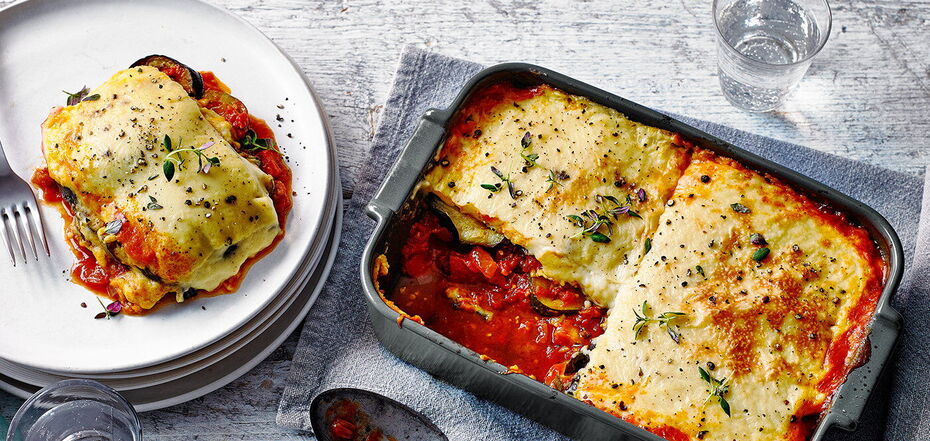 Delicious moussaka for lunch or dinner. Source: realfood.tesco.com
To make a hearty dinner or lunch, you can combine a lot of vegetables and meat in one dish. It makes a delicious Greek moussaka. The ingredients for it just need to be combined and baked.
The idea for Greek moussaka is published on the Instagram page of food blogger Anastasia nastya_yizha. The creamy béchamel sauce adds juiciness to the dish.
Ingredients:
potatoes - 2-3 medium
onions - 2 pcs
eggplants - 2 small (about 500 g)
zucchini or zucchini - 2 medium-sized (about 500 g)
ground beef - 500 g
tinned tomatoes - 400 g
tomato paste - 50 g
garlic - 1-2 cloves
milk - 750 g
butter - 100 g
flour - 100 g
egg yolks - 3 units
parmesan or other curd - 150 g
olive oil
thyme - 3 tsp.
cinnamon - 1/2 tsp.
cloves - a pinch
nutmeg - a pinch
salt, pepper
Method of preparation:
1. Slice the potatoes into thin slices and put them in a bowl.
2. Cut 1 onion into half rings and add to the potatoes.
Pour a little vegetable oil, add 1 tsp. of dried thyme, salt and pepper. Mix.
4. Oil the baking dish and put the potatoes and onions in it.
5. Flatten and place in a preheated 200 degrees oven for 20 minutes.
6. Chop the eggplant and put it in a bowl.
7. Add a little vegetable oil, 1 tsp. thyme, salt and pepper. Mix.
8. Take out the potatoes, put a layer of eggplant on top and put back in the oven for 20 minutes.
9. Slice the zucchini, transfer to a bowl, add oil, thyme, salt and pepper, stir and place on top of the baked eggplant.
10. Place in the oven for another 20 minutes.
11. Pour some vegetable oil into a heated frying pan, add the chopped onions and fry for a few minutes.
12. Add chopped garlic, cloves, cinnamon and tomato paste. Stir.
13. Add minced meat, stir everything and add chopped canned tomatoes, salt and pepper. Stir everything and stew until all the liquid evaporates (5-7 minutes).
14. For the béchamel sauce, melt the butter in a saucepan over a low heat, add the flour and stir.
15. Pour the milk and stirring constantly, cook until the first bubbles and turn off.
16. Add the pepper, nutmeg, 100g of Parmesan cheese, egg yolks and stir. Add 1/3 of the béchamel to the stuffing and stir.
17. Place the stuffing on top of the zucchini and flatten.
18. Pour the béchamel on top, flatten, sprinkle with Parmesan and send to the oven heated to 200 degrees for 25-30 minutes until golden.
19. Let cool for 1.5-2 hours and then you can slice it.
Also on OBOZREVATEL you can read the recipes: