Trending:
No-bake blueberry cheesecake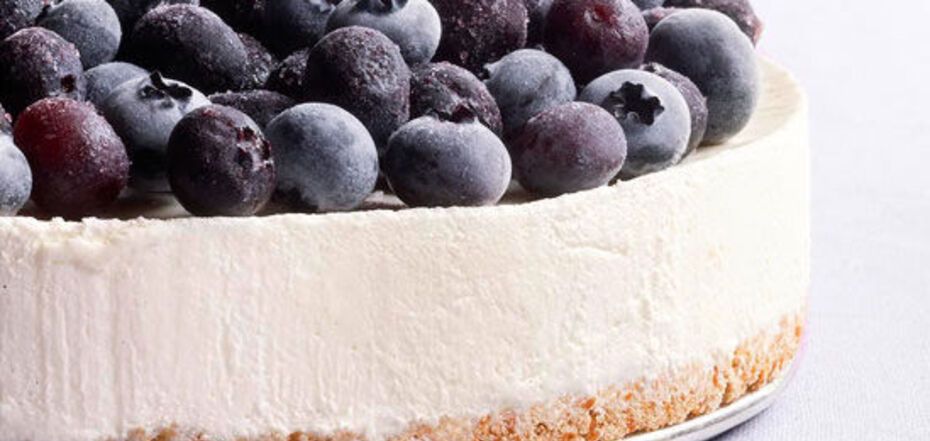 Simple blueberry cheesecake without baking. Source: lovethispic.com.
No-bake desserts are a great alternative to many classic sponge cakes, especially in the summer period when you want light food. A great idea will be to make a simple blueberry cheesecake with ordinary cookies.
The idea of making blueberry cheesecake without baking is published on the Instagram page of food blogger Victoria with the nickname viktoria__cooking. The berries in purple jelly on top look very aesthetically pleasing.
Ingredients for the base:
150 g cookies
60 g butter
Ingredients for the filling:
250 g sour milk curd 5-9%
200 g sour cream 20%
150 g blueberries
50-150 g sugar (adjust to taste)
10-12 g vanilla sugar
9 g gelatin + 50 g cold water
Ingredients for the jelly:
400 ml berry jelly
300 g blueberries
Method of preparing the base:
1. Crumble the cookies for the base.
2. Mix with the melted butter.
3. Place in a mould lined with parchment, level well and leave in the refrigerator while the filling is cooking.
Preparing the cottage cheese mixture mixture:
1. Pour gelatine in cold water and leave to swell for 10 minutes.
2. Blend blueberries and sugar and rub through a sieve.
3. Add cottage cheese, sour cream and vanilla sugar and beat with a blender.
4. Melt the gelatin in the microwave for 20-30 seconds, take it out, stir and check if all the grits have dissolved. If not, reheat for a few more seconds.
5. Add the melted gelatin to the cottage cheese mixture and beat again with a blender.
6. Spread the cottage cheese mixture on the cookie base and leave in the refrigerator.
Preparing the jelly layer:
1. Prepare the berry jelly according to the instructions on the package and leave to cool completely.
2. Take the cake out of the fridge, lay out the blueberries, pour a few spoons of berry jelly and leave in the fridge until completely set.
3. Pour in the remaining jelly and place the cheesecake in the refrigerator overnight.
Also on OBOZREVATEL you can read the recipes: