Trending:
Marinated tomato salad in 5 minutes: how to cook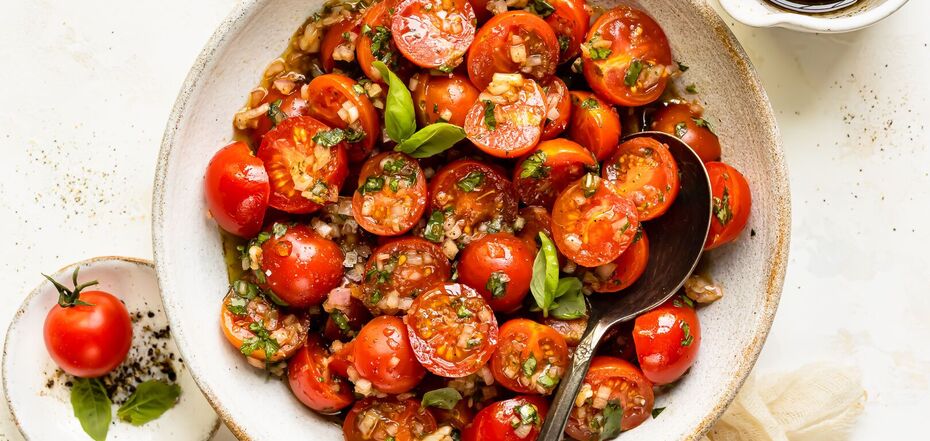 Quick and easy pickled tomato salad. Source: nospoonnecessary.com
Marinated tomato salad is a very quick and juicy seasonal snack. You can prepare it in just 5 minutes. It goes well with any meat, fish or porridge.
The idea of cooking a marinated tomato salad in 5 minutes was published on the Instagram page of food blogger Anastasia with the nickname anny.cooking. The marinade has a very pleasant sweet and sour taste.
Ingredients:
300-400 g tomatoes (cherry/plum)
2 garlic cloves
1 onion
herbs
Ingredients for the marinade:
3-4 tbsp oil
1 tsp. honey
1 tbsp. lemon juice
1 tsp. French mustard
1/3 tsp. salt
1 tsp. Italian herbs
Method of preparation:
1. Chop the tomatoes and onions and chop the garlic.
2. Chop the herbs.
3. For the marinade, combine the oil, honey, lemon juice, French mustard, salt and Italian herbs.
4. Mix everything well.
5. Fill the jar with vegetables and herbs.
6. Pour the marinade over the top.
7. Twist the jar and turn it over several times.
8. Cool for an hour.
You can also find recipes on OBOZREVATEL: