Trending:
Lutenitsa: how and what to make spicy sweet sauce from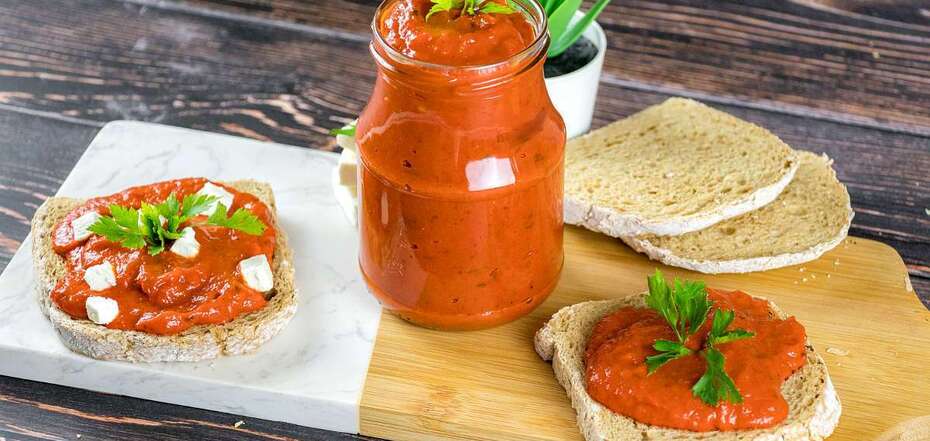 Lutenitsa sauce. Source: authenticfoodquest.com
Lutenitsa is a traditional Bulgarian sauce made of tomatoes and peppers. It can be eaten right away or covered for the winter. Not many spices are used in the sauce, but for a bright flavor lutenitsa is often supplemented with garlic.
Foodblogger ZoryanaIvchenko (zoryana_ivchenko) on her Instagram page shared a recipe for Bulgarian sauce lutenitsa from tomatoes and peppers.
Ingredients:
sweet red pepper - 6 pods
tomatoes - 3 pcs
garlic - 2 cloves
vegetable oil - 4 tbsp.
sugar - 2-3 tbsp.
salt - 1 tsp.
black pepper
hot pepper
Method of preparation:
1. First, lay out the peppers and tomatoes on a baking tray. Bake the peppers in the oven until soft, tomatoes until the skin bursts.
2. Put the roasted vegetables in a bag, cool, then peel off the skin and seeds. Chop them. The resulting juice - do not pour out.
3. In a saucepan put the chopped vegetables, juice, add spices, salt, sugar and vegetable oil. Press garlic. Cook over medium heat, stirring constantly, until thickened.
4. Transfer the hot sauce into jars, seal with lids and refrigerate. Done!
Also on OBOZREVATEL you can familiarize yourself with recipes: