Trending:
Lush cottage cheese casserole with peaches: how to prepare seasonal baked goods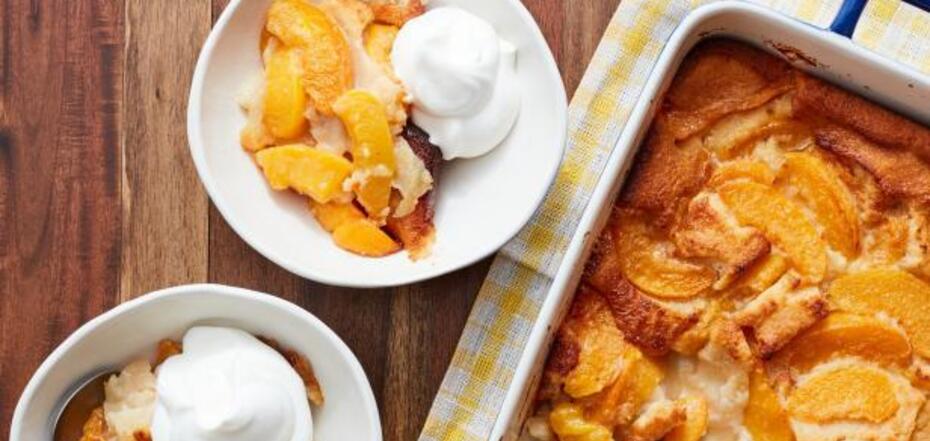 Recipe for cottage cheese casserole with peaches. Source: foodnetwork.com
To make a regular cottage cheese casserole sweet and juicy - you should add peaches to the dough. In addition, it is now the season, so they are the most delicious. The dessert will be very light and airy.
The idea of cooking summer cottage cheese casserole with peaches is published on the culinary page tastystories.feed in Instagram. It will turn out very tasty if you add nuts and chocolate.
Ingredients:
cheese - 700 g
creamy cottage cheese - 170 g
eggs - 3 pcs.
20% cream - 100 ml
vanilla sugar - 1 tsp.
honey - 2 tbsp.
peaches - 4 pcs.
caramel syrup - 30 ml.
butter - 10 g (1 tsp)
dark chocolate - 50 g for sprinkling
nuts - a handful (any kind)
Method of preparation:
1. For the base, combine cottage cheese, eggs, cream cheese, vanilla sugar and honey. Beat with a blender until smooth.
2. Add cream, stir with a spoon.
3. Cut peaches into halves or quarters.
4. Braise in butter and caramel sauce for 3 minutes in a pan.
5. Set aside to cool.
6. In a baking dish, place parchment on the bottom.
7. Place the peach halves center side down.
8. Sprinkle nuts on the bottom and drizzle with a little caramel sauce.
9. Pour over the curd base.
10. Bake in preheated oven for 60 minutes at 160 degrees.
11. Take out and leave to cool for 2-3 hours in a cool place.
12. Flip to plate.
13. Grate chocolate on top.
Also on OBOZREVATEL you can read the recipes: