Trending:
Lush buns with raspberries for tea: how to make a seasonal dessert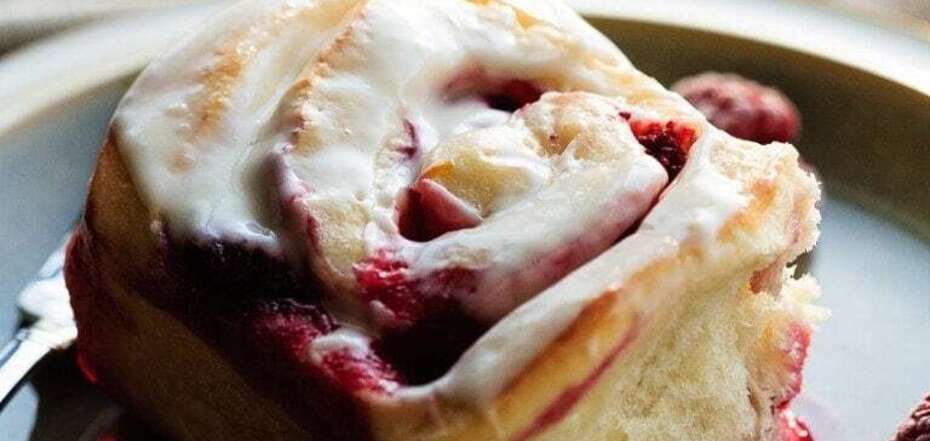 Raspberry buns baked for 15 minutes. Source: bake-eat-repeat.com
Fresh seasonal berries can be used as a filling for a variety of pastries. It's a great idea to make raspberry buns. They are very fluffy and juicy because they are made from yeast dough.
The idea of making fluffy raspberry buns was published on the Instagram page of food blogger Nataliia Zhuk (nataliia_zhuk_cooking). They take only 15-20 minutes to bake.
Ingredients for the dough:
150 ml milk
80 g sugar
1/3 tsp. vanilla
20g fresh yeast
60g butter
1/3 tsp. salt
2 medium eggs
470 grams of flour
Ingredients for the filling:
350g berries/fruits
100g sugar
30 g starch + 40 g water
Ingredients for the cream:
150g cream-cheese (thick sour cream)
50 g powdered sugar
40g butter
Method of preparation:
1. Add sugar, vanilla sugar and 20 g of live yeast to the warm milk.
2. Then add the melted butter, salt, and beat in 2 eggs.
3. Mix again and sift in about 470 g of flour.
4. Knead the dough.
5. Grease a bowl with oil, put it in and leave it in a warm place for 30 minutes.
6. For the filling, add 100 g of sugar to the berries and cook for 5-10 minutes over medium heat. Then add 40 g of water to the starch. Stir and gradually add to the raspberries.
7. Cover with contact foil and chill.
8. When the dough is ready, knead it and leave it for another 5-10 minutes.
9. Roll it out thinly, brush with raspberries and wrap it in a roll.
10. Cut it with a thread and place it on parchment.
11 Cover and leave in a warm place for 10-15 minutes to allow the buns to rise well.
12. Bake in a preheated 180 degree oven for 15-20 minutes.
13. While the buns are baking, mix 150 g of cream cheese or thick sour cream, powdered sugar and butter.
14. Grease the hot buns with cream.
You can also find recipes on OBOZREVATEL: