Trending:
Lightly salted cucumbers that can be eaten in a day: how to cook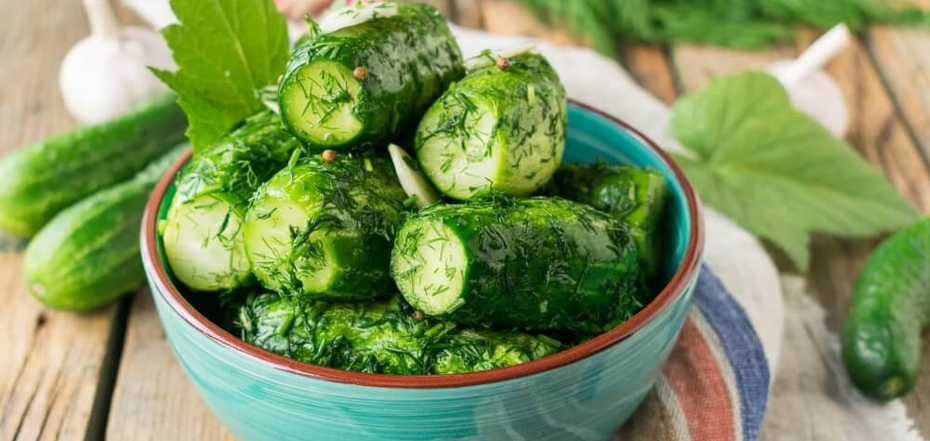 Crispy lightly salted cucumbers in a day. Source: niftyrecipe.com
Lightly salted cucumbers are a great savoury snack for all occasions. And if you cook vegetables using this technology, you can eat them within a day. The cucumbers are very crispy and spicy.
The idea of making lightly salted cucumbers that can be eaten in a day was published on the Instagram page of food blogger Oksana Dorosh (oksana_dorosh_rezeptu). Be sure to add chilli pepper, as it is the main ingredient that makes the taste spicy.
Ingredients:
fresh cucumber - 1 kg.
vegetable oil - 2 tbsp.
water - 800 ml.
sugar - 80 g.
vinegar - 50 ml.
chilli pepper - to taste
salt - 4 tbsp
soy sauce - 2 tbsp.
Method of preparation:
1. Wash the cucumbers and cut them into 4 pieces, not all the way through.
2. Add 2 tbsp of salt and leave for 40 minutes.
3. Squeeze the cucumbers carefully - do not rinse anything, just squeeze out the salty juice.
4. Heat the oil in a frying pan.
5. Remove the frying pan from the heat, add the chilli and pour it into the cucumbers. Chilli is a must - without it, the cucumbers will just be sweet and sour and salty.
6. Stir the cucumbers so that everyone has enough oil and pour in the soy sauce.
6. Stir and leave to cool.
7. Stir 2 tbsp of salt, sugar and vinegar in water.
8. Pour over the cooled cucumbers and leave in a warm place for a day.
You can also find more recipes on OBOZREVATEL: