Trending:
Korean-style salad with cucumbers and carrots for the winter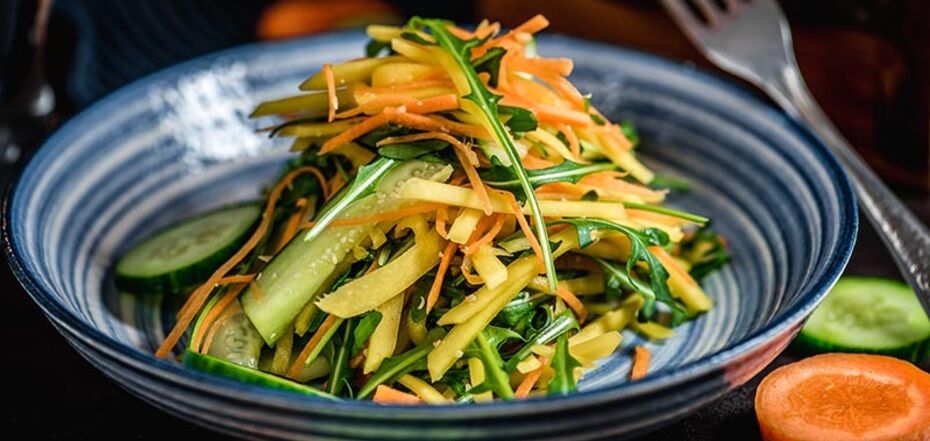 Korean-style salad for winter. Source: homemaderecipes.com.
Canned salads are a universal appetizer, which will be appropriate both on a weekday and on holidays. You just need to open the jar and lay out the dish on a plate. A spicy Korean-style salad with carrots and cucumbers will be even better.
The idea of cooking spicy canned Korean salad is published on the page of food blogger Nadezhda with the nickname nadezhda.popova.167 on Instagram. The dish turns out to be very juicy,
Ingredients:
2kg. cucumbers
0.5kg. carrots
1 tsp. ground coriander
100 g sugar
40 g salt
100ml. oil
100ml. vinegar
1 garlic
half of bitter pepper (10 g) or more to taste
Method of preparation:
1. Grate the carrots with a Korean carrot grater.
2. Cut the large cucumbers into 8 pieces and the small cucumbers into 4 pieces.
3. Chop the garlic head and pepper in a blender or grater.
4. Add spices.
5. Add salt and sugar.
6. Add oil and vinegar.
7. Mix everything well.
8. Leave to marinate for 4 hours.
9. Stir from time to time.
10. Put into clean jars, sterilize for 10 minutes and fill with cold water.
11. Turn over and cover with a towel.
Also on OBOZREVATEL you can find recipes: