Trending:
Is it necessary to remove the foam when boiling broth: how it affects the flavour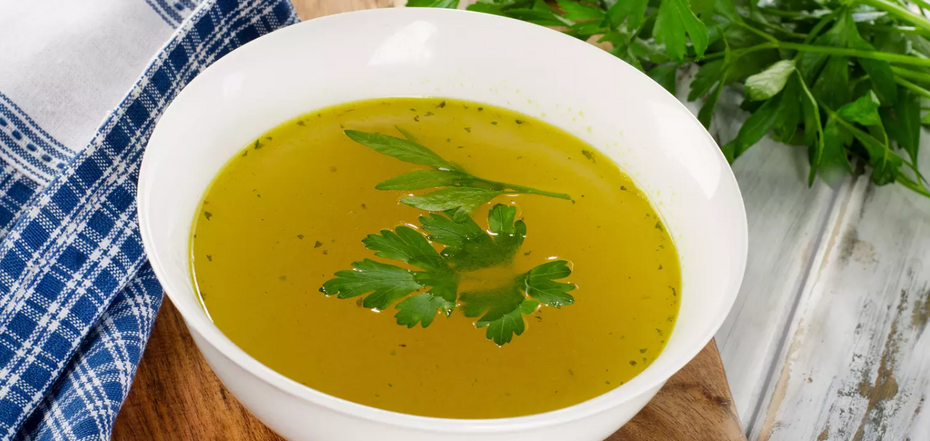 Transparent and low-fat broth. Source: cuisine.journaldesfemmes.com.
In the process of boiling broth a characteristic white foam usually forms, which gradually changes color and darkens. Some housewives remove it, others leave it and do not pay too importance to it.
FoodOboz editorial staff has collected information and will tell you whether it is necessary to remove the foam during when cooking broth.
The foam that forms when broth is boiled is protein that has curdled from the high temperature. At first it becomes white, but if there is meat in the dish, it can darken and even become brown.
Such foam is not harmful. However, it has the property of combining with fat, becoming dense and sticking to the pan. Firstly, it makes the broth less attractive. Secondly, the foam can affect the flavor of the dish, giving it a slight bitterness.
Considering these factors, we can say that it is better to remove the foam during the cooking of broth.
Foodblogger Emiliya Yevtushenko (emiliya.yevtushenko) on her Instagram page shared a recipe for an easy chicken broth that you can make in 20 minutes.
Ingredients:
chicken fillet - 1 pc
chicken thighs - 3 pcs
large carrot - 1 pc
onion - 1 pc
salt - 1,5 tbsp.
vegeta - 2 tsp.
parsley
Method of preparation:
1. First, rinse the meat well and put it in a pot. Pour water and put on the fire. Bring to a boil and cook for 1-2 minutes.
2. Next, drain the water from the pot and pour in new water. Put on a low heat.
3. Cut carrots into rings, peel onions. Add everything to the broth. Continue to cook on low heat. If foam forms, remove it with a strainer.
4. Add salt and vegeta. Cook until the meat and vegetables are cooked.
5. Take the onions out of the broth and add the chopped parsley. Cook for a few minutes and you can remove it from the heat. Done!
Earlier OBOZREVATEL shared how to prepare delicious broth for dumplings.