Trending:
Incredibly appetizing chicken thighs with aromatic marinade: a recipe for a delicious barbecue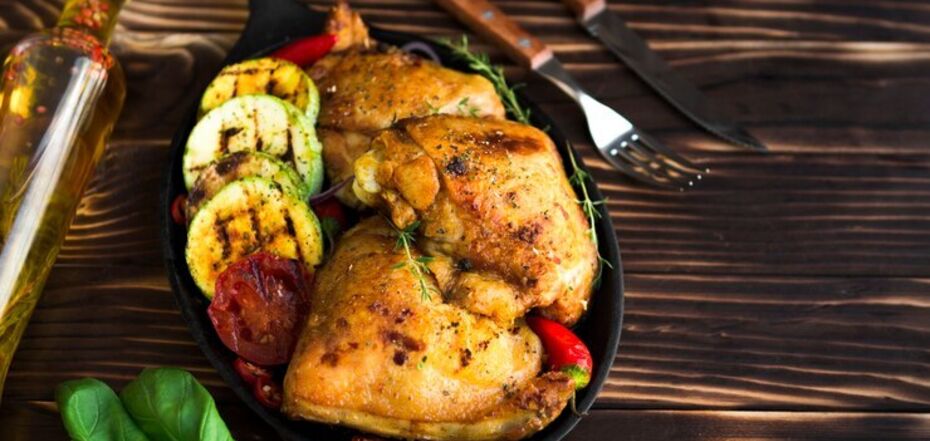 Chicken thighs with a delicious marinade. Source: freepik.com
Chicken thighs are an incredibly tasty and appetizing dish that combines tender chicken meat with a flavorful marinade and fresh pineapple slices. It can be cooked all year round, as this recipe is a great option for both summer barbecues and winter festive tables. The successful combination of ingredients guarantees you an unforgettable taste experience and pleasant emotions.
The idea of cooking chicken thighs was published on a recipe page called "Ukrainian-style" on Facebook.
Ingredients:
chicken thighs - 6 pcs.
rings of canned pineapple - 8 pcs.
For the marinade:
soy sauce - 50 ml
canned pineapple juice - 100 ml
oil - 1-2 tbsp
garlic - 4-5 cloves.
mustard in grains - 1 tsp.
paprika - 1 tsp.
dry rosemary - 1 tsp.
salt and pepper to taste
oil for greasing the baking sheet
Wash the chicken thighs and make cuts on both sides, salt and pepper.
Mix in a separate bowl: soy sauce, vegetable oil, canned pineapple juice, paprika, dried rosemary, chopped garlic, mix and transfer the meat to the sauce. Marinate the chicken thighs for 2 hours.
Take a baking dish, grease it with vegetable oil, and put the canned pineapple rings in it. Put the marinated chicken thighs on the rings and pour the marinade in which the meat was marinated.
Cover with wet parchment and put in a preheated oven 180-190 degrees for 40-45 minutes. Then remove the parchment and bake for another 10-15 minutes until golden brown.
You can also find more recipes on OBOZREVATEL: