Trending:
How to tastily preserve zucchini for winter: with apple and red pepper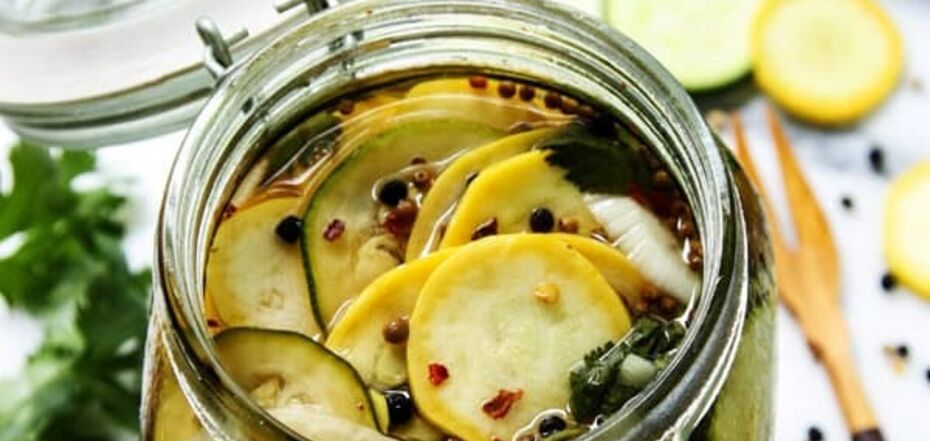 Delicious canned zucchini for the winter. Source: afarmgirlsdabbles.com.
Seasonal zucchini is an excellent basis for a delicious appetizer for the winter. It is necessary to add other vegetables. Everything just needs to be stewed and put in jars. Then you can eat with potatoes, porridge or as a salad.
The idea of cooking zucchini appetizer for winter is published on the page of foodblogger Tatiana Yushina (_tanyushina_) in Instagram. Perfectly stored in a cold room.
Ingredients:
2 kg of zucchini
1 sweet pepper (preferably red)
1 apple
1 onion
1-2 chili peppers
1 carrot
1 head of garlic
70 g tomato paste
200 g sugar
100 g vinegar 9%
50 g salt
Method of preparation:
1. Young, seedless zucchini are best. They should be cut into long bars.
2. Put the rest of the ingredients through a meat grinder.
3. Layer them in a saucepan.
4. Add salt, sugar, tomato paste, vinegar.
5. Bring to a boil.
6. Pour the zucchini into the pan, stir.
7. At first there will be little liquid, but then the zucchini will start to give up moisture.
8. After boiling, cook for an hour over medium heat.
9. Ready salad poured into sterile jars, hermetically close.
10. Turn over and wrap in a blanket until completely cooled.
11. One serving yields 5 jars of 0.5 liters.
Also on OBOZREVATEL you can familiarize yourself with recipes: