Trending:
How to surprise your family with a delicious apple pie in minutes: an easy recipe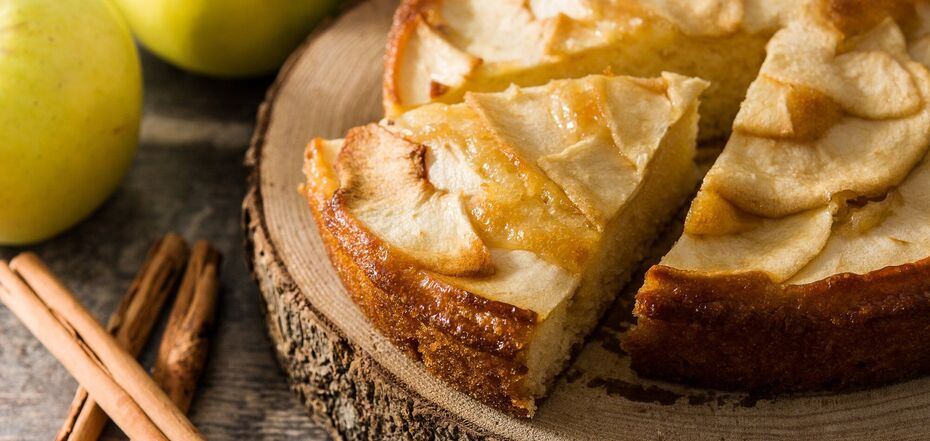 Apple pie. Source: depositphotos.com
Apple pie is a versatile fruit dessert with apple filling. It is a great option for a sweet snack at any time of the day: either for breakfast with a cup of aromatic coffee or for dinner with hot chocolate. Delicate, weightless sponge cake dough with apple flavor will pleasantly surprise the whole family. The pie is quite quick to prepare, without fuss and problems.
The video of the recipe was published on the cooking blog "Simple Recipes with Yulia" on Facebook.
Ingredients:
2-3 apples
2 eggs
a pinch of salt
5 tbsp of sugar
3 tbsp of vanilla sugar
160 g of flour
3 tbsp. l sour cream or yogurt
2 tsp of baking powder
2 tbsp. l vegetable oil
1 tbsp. l butter
Method of preparation:
1. Take 2-3 medium-sized sweet and sour apples and peel them and remove any excess. Then cut the peeled apples into small cubes.
2. Crack 2 chicken eggs into a small salad bowl and season with a little salt.
3. Add 5 tbsp of sugar and 3 tbsp of vanilla sugar.
4. Mix well and beat with a whisk until you get a little foam.
5. Add 3 tbsp of yogurt to the egg mixture without any filler.
6. Also add 160 g of flour and 2 tsp of baking powder.
7. Mix all ingredients thoroughly with a whisk to obtain a homogeneous mixture without lumps.
8. Pour 2 tbsp of vegetable oil into the dough thus obtained and mix.
9. Put the previously chopped apple cubes into the salad bowl with the dough and mix well.
10. Using a small piece of butter and a brush, grease the pan where the dessert will be baked.
11. Put the apple dough in the pan, gradually smooth the dough over the entire surface of the pan with a silicone spatula.
12. Cover the pan with a lid and send it to medium heat of the stove, bake for 30 - 35 minutes.
13. After this time, remove the lid from the pan and cover with a sheet of parchment paper, turn the cake over and put it on the pan with the unbaked side.
14. Bake for about 15 minutes.
15. Put the finished apple dessert on a plate.
16. Sprinkle the finished cake with a little cinnamon, mixing with a little powdered sugar. Enjoy your meal!
You can also find more recipes on OBOZREVATEL: