Trending:
How to prepare delicious meatballs with mushrooms for porridge, potatoes and pasta for lunch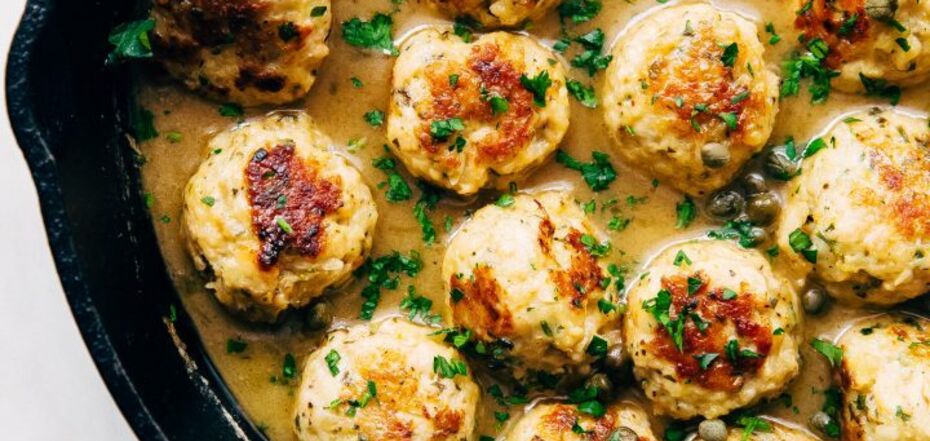 Delicious meatballs with mushrooms for lunch. Source: littlespicejar.com
If you're tired of dry pasta with sausages, make these meatballs for lunch. They will go well with any side dish. The products are very juicy because they are stewed in a sauce, so in addition to meat products, you also get a delicious gravy.
The idea of cooking juicy meatballs with mushrooms for a hearty lunch was published on the cooking page of food blogger Karyna Ratushniak (_cook_time_love_) on Instagram. It turns out to be very satisfying.
Ingredients:
minced meat - 500 g
onion - half
carrot - 1 pc
loaf - 5 slices
garlic - 3 cloves
salt/pepper/spices
Ingredients for the sauce:
mushrooms - 10 pcs.
onion - 1 piece
garlic - 1 clove
flour - 1 tbsp
sour cream - 350 g
milk - 350 ml
salt/pepper
nutmeg
Method of preparation:
1. Soak the loaf in water, chop the onion finely, and grate the carrots on a fine grater.
2. Add the loaf, onion, carrot, garlic and salt/pepper/spices to the minced meat. Mix thoroughly and form meatballs.
3. Fry the meatballs until lightly golden brown. They should not be completely cooked.
4. For the sauce, chop the onion and mushrooms. Add flour and milk to the sour cream. Mix thoroughly.
5. In the same frying pan, fry the onion until golden brown, add the garlic and mushrooms, stir, add sour cream and salt/pepper/nutmeg, bring to a boil and add the meatballs. Stir and cover. Simmer for 15 minutes over low heat.
You can also find recipes on OBOZ.UA: