Trending:
How to prepare beet borscht dressing for winter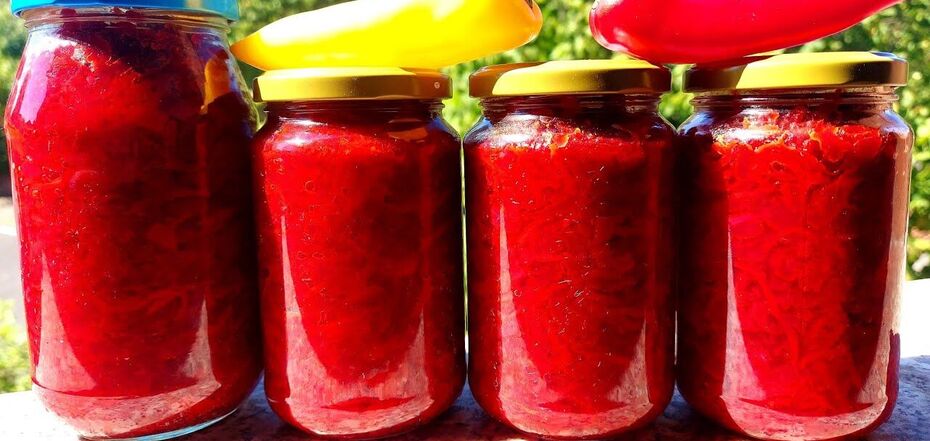 Borscht dressing for the winter. Source: Screenshot from a YouTube video
Beetroot dressing is a versatile winter preparation that facilitates the process of cooking borscht. It is usually made from beets, sometimes supplemented with cabbage, tomatoes and bell peppers. It is sweet and has a slight sourness.
Food blogger Yulia Simonchuk (cook_julia_simonchuk) shared a recipe for beetroot borscht dressing on her Instagram page.
Ingredients:
red boiled beets - 3 kg
onions (medium) - 4-5 pcs
pepper - 1 kg
oil - 1 glass (200 ml)
vinegar - 1 glass
water - 1 glass
sugar - 1 glass
salt - 1.5 tbsp.
Method of preparation:
1. Boil beets and grate them when ready. Chop onion and pepper.
2. Put the prepared vegetables in a saucepan.
3. Mix oil, vinegar, water, sugar and salt. Pour the resulting mass over the vegetables and put the saucepan over medium heat. Bring to a boil and cook for 25-30 minutes, stirring occasionally.
4. Pour the hot vegetable mixture into sterile jars and roll up the lids. Store in a cold place. It's ready!
You can also find more recipes on OBOZREVATEL: