Trending:
How to pickle zucchini deliciously: the easiest recipe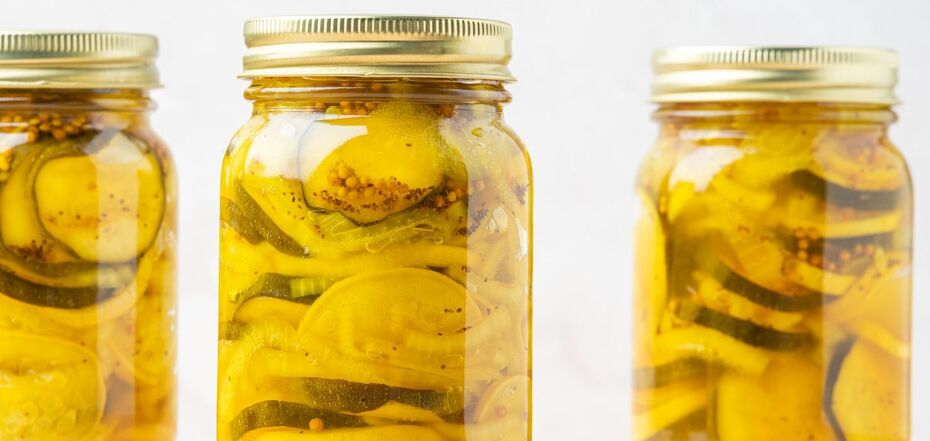 Zucchini in a jar for winter. Source: thespruceeats.com.
Pickled zucchini is a delicious appetizer that can be served on its own or with a side dish. Traditionally, they are made with spices and garlic and also supplemented with ketchup, seasoning or tomato paste. Following the proportions, zucchini turn out crispy and elastic.
Food blogger Lilia Tsvit (Lilia Zwit) on her YouTube channel shared a recipe for spicy zucchini in a jar for winter.
Ingredients for 6 jars 0,5 liters:
Dressing:
sweet pepper - 3 pcs
hot pepper - 0.5 pcs
garlic - 1 head
horseradish root - 1 pc
allspice - 1 tsp.
bay leaf - 4 pcs
coriander seeds - 1 tsp.
Marinade:
water - 2 liters
salt - 2 tbsp.
vinegar - 200 ml
sugar - 200 g
Method of preparation:
1. To prepare the dressing, you need to peel peppers, garlic and horseradish. Transfer the ingredients to the bowl of a blender, add allspice, bay leaves and coriander. Grind everything to a homogeneous mass.
2. Put the resulting mass into clean jars (1 tbsp. per 1 jar).
3. Wash zucchini and cut into circles. Place in jars tightly.
4. To prepare the marinade, mix all the ingredients in a saucepan. Put on the fire and bring to a boil.
5. Fill the jars with hot marinade. Cover with lids and sterilize for 10 minutes.
6. Seal the jars with lids. Turn the jars upside down and leave like this until completely cooled. Done!
Also on OBOZREVATEL you can find recipes: