Trending:
How to pickle spicy plums for winter for meat, salads and as a separate appetizer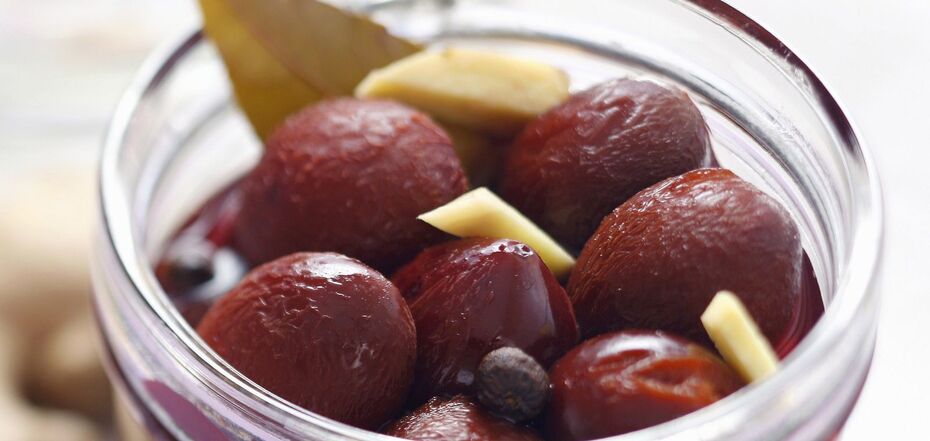 Pickled plums with bay leaf and pepper. Source: eatsmarter.com.
The plum season is in full swing. You can make not only jam or compote from them but also a spicy appetizer. You will need spices and bay leaves.
The idea of cooking pickled plums for winter is published on the Instagram page of food blogger Iryna Boichuk (irina_boichuk_29). They can be eaten as an independent appetizer or added to salads and meat.
Ingredients per 0.5 jar:
100 ml. water
1 tablespoon sugar
0.5 tbsp. salt without a slide
2 bay leaves
3 dried clove buds
3 peas of allspice
300-400 g plums (depending on size and density)
A few pieces of hot pepper (to taste)
1 tablespoon of vinegar
Method of preparation:
1. Add bay leaf, allspice, sugar, salt and cloves to water and boil for a few minutes over medium heat until salt and sugar dissolve.
2. Wash the plums. They should be slightly hard and firm and without damage. Pierce each one with a toothpick in several places so that they do not crack from boiling water. Put them in a bowl.
3. Pour boiling brine over the plums and leave for 15-20 minutes.
4. Then strain the marinade back into the pot and bring to a boil once again. Repeat one more time. Pour, wait and drain back into the pot.
5. Put a few small slices of hot pepper in the bottom of the sterilized jar and carefully add plums.
6. Boil the brine one last time, add vinegar and pour over the plums. Cover with lids and a towel until cool.
7. It is possible to eat plums already after a few days.
Also on OBOZREVATEL you can find recipes: