Trending:
How to make real Moldavian placindas that have soft and elastic dough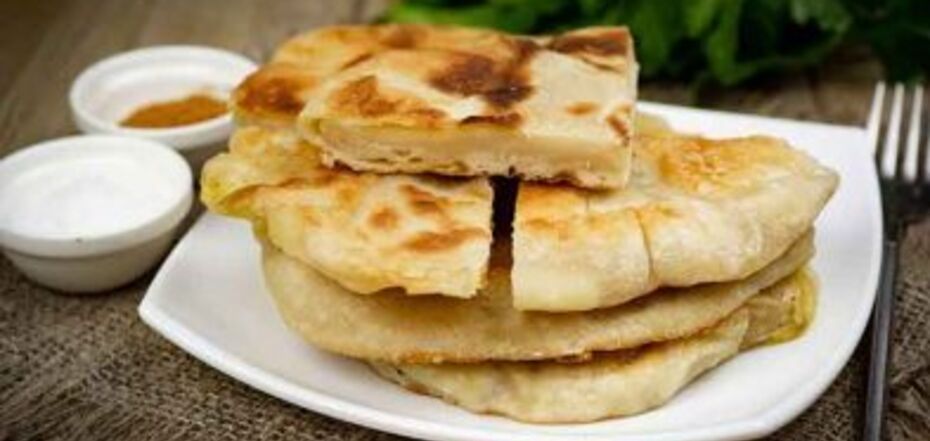 Recipe for tasty placindas in a frying pan. Source: hozoboz.com.
Placinda is a Moldavian palianytsia with stuffing. The dish is cooked directly in a frying pan. The main secret is a very soft and elastic dough. Follow the following technology so that it turns out tasty.
The idea of cooking a real Moldovan placinda is published on the Instagram page of a food blogger with the nickname katlin_stay. The filling can be cottage cheese, cherry or zucchini.
Ingredients for the dough:
flour - 150 g
water - 95 g
yeast - 0.5 tsp (2 tsp)
Sugar - 1 tsp.
salt - 0.5 tsp.
butter - 3 tsp.
Ingredients for the filling:
sour milk curd - 300 g
herbs (onion, dill, parsley)
egg - 1 pc
salt - to taste
Method of preparation:
1. Add yeast, sugar, salt and vegetable oil to warm water.
2. Stir until all the ingredients are dissolved.
3. Pour the mixture into the sifted flour mixture and stir gently.
4. Knead a soft, sticky dough, place in a deep bowl, cover with clingfilm/moist towel and leave to rest for 30-40 minutes.
5. Prepare the filling. mix chopped herbs, cottage cheese, salt and egg.
6. Sprinkle the table with flour and take out the dough. Divide into three equal balls, sprinkle with flour, cover with clingfilm and wait another 10 minutes.
7. Roll out the dough (not very thin), spread the filling evenly and, pulling back the edges a little, wrap them in the center in a circle. Press down a little with the palm of your hand and form an even crust.
8. Heat a frying pan with vegetable oil and start frying the placindas. Be sure to place them on the pan with the envelope facing down. Fry the side that you wrapped first.
9. Fry on both sides until golden. Place on paper towel to remove excess oil.
10. Stuffing can be made with cheese, potatoes, meat, apple, cherry or zucchini.
Also on OBOZREVATEL you can read the recipes: