Trending:
How to make original apricot jam: with rhubarb and lavender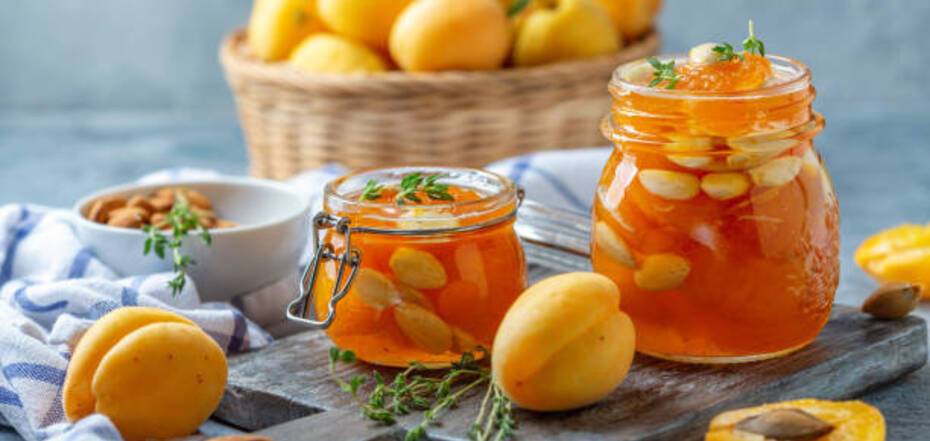 Original apricot jam. Source: pixabay.com
Apricot jam is a great filling for a variety of pies or just a sweet spread on a bun. So every housewife is sure to make at least one jar for the winter. And a really original idea would be to make apricot jam with lavender and rhubarb. It will turn out very fragrant and with a slight sourness.
The idea of making apricot jam with rhubarb and lavender is published on the page of food blogger Elena Sagun(olena_sagun) in Instagram. The best way to store such jam is in the refrigerator.
Ingredients:
400 g apricots (seedless weight)
100 g rhubarb
200 g sugar
1 tsp. (topped) of dried culinary lavender
Method of preparation:
1. Cut the apricots into quarters.
2. Dice the rhubarb.
3. if you just throw a spoonful of lavender in the pot, it will be felt on your teeth. Therefore, you should make a special bag for lavender beforehand. To do this, you need to take gauze (cut a square of about 20x20 or larger), put lavender in the center and tie the gauze to make a sack. It will have long ends, because the fabric needs to be cut with a reserve.
4. In a saucepan, put chopped apricots and rhubarb, pour sugar, and put on a small fire.
5. When the juice appears - put the sack with lavender in the pot, so that the sack is immersed in the liquid, and with the long ends tie it to the handle of the pot.
6. While cooking, stir the jam and taste.
7. When the taste of lavender is already quite tangible - remove the bag.
8. When the jam becomes the desired thickness - remove from the stove.
9. Store in a closed jar in the refrigerator.
Also on OBOZREVATEL you can read the recipes: