Trending:
How to make juicy meat pâté for winter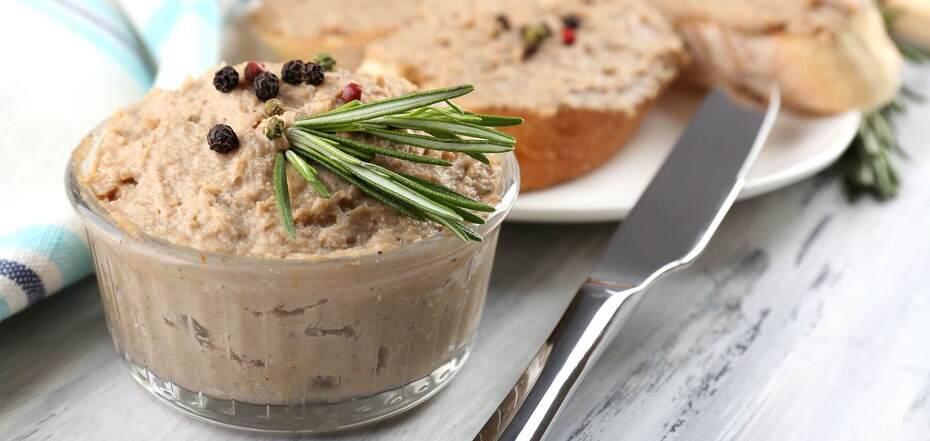 Delicious canned pâté. Source: goodpairdays.com.
Even pate can be canned for the winter. A jar like this will come in handy if there is little time for cooking. You just need to get it out of the cellar and smear on bread.
The idea of cooking canned pate for winter is published on the page of food blogger Nadezhda with the nickname malvalanda on Instagram. The liver and two types of meat are mixed.
Ingredients:
1 kg of chicken meat
300 g pork belly (fat with meat veins)
300 g chicken liver
300 g carrots
300 g onion
3 eggs
salt, pepper to taste
Method of preparation:
1. The liver should be cleaned and steamed with boiling water. Throw it on a sieve after 2-3 minutes, rinse and drain excess liquid.
2. Cut the underbelly into small pieces and fry a little in a deep frying pan, then add chopped onions and carrots 10 mintures later.
3. Stew everything together under a lid until cooked through and refrigerate.
4. Grind chicken meat, liver and lard with vegetables through a fine sieve on a meat grinder. Add eggs and spices, mix well.
5. Spread the mixture into clean, dry jars (not all the way to the top).
6. Cover the jars with a lid (twist).
7. Put the jars with pate in a pot for sterilization with a towel-covered bottom, completely fill the jars with warm water.
8. The water should cover the jars by about 2-3 centimeters.
9. Sterilize after boiling for 4 hours in low heat. Add hot water during sterilization if the water evaporates and its level drops.
10. Turn off the heat and leave the jars to cool in water after sterilization. Then take them out, gently wipe and after an hour or two (as well dry) take them to a cool and dark cellar for storage.
Also on OBOZREVATEL you can read the recipes: