Trending:
How to make healthy and tasty salad dressings: top 5 options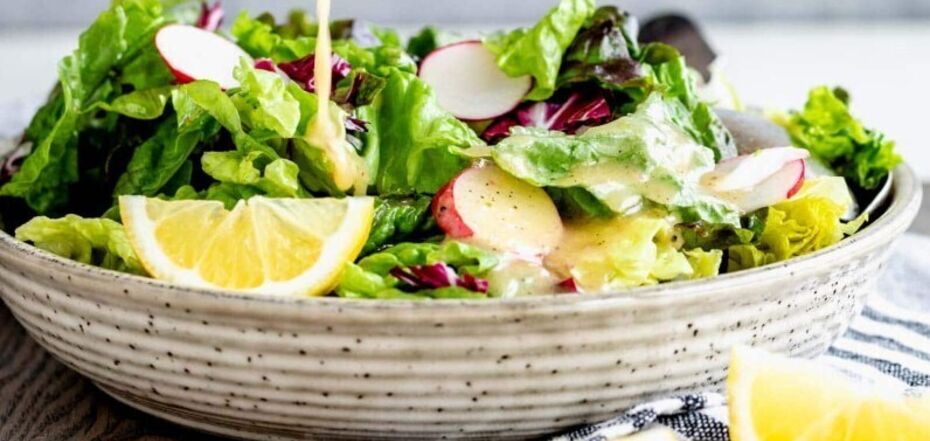 Top 5 healthy salad dressings. Source: healthyseasonalrecipes.com
Salad dressing is a crucial note that has the greatest impact on the taste of the dish, as well as its benefits. It often happens that nutritious vegetables are spoiled by mayonnaise or other harmful ingredients. However, there are many other options for dressings made from healthy ingredients.
Ideas for simple and very healthy salad dressings are published on the Instagram page of nutritionist Olena Kostiuk(fresh_diet_life). All of them are very light, fresh and nutritious.
Basic dressing
2 tbsp of olive oil
1 tbsp of mustard
3 tbsp of water
salt, pepper
Green dressing:
a bunch of greens (which you like), you can mix
150 g of yogurt without additives (up to 3.2%)
a drop of lemon juice or vinegar
finely chopped shallots
salt and pepper to taste
{"imgSrc":"https://i.obozrevatel.com/gallery/2022/5/4/filestoragetemp-2021-12-24t122141-575-kopiya4.jpg","imgWidth":1944,"imgHeight":924,"title":"Заправка на йогурті ","sourceTxt":" ","alt":" "}
Dressing with water:
water
vinegar
lemon juice
Dijon mustard
salt, pepper
Green apple dressing:
grated green apple
cilantro
1 tbsp of olive oil
lemon juice
1 tsp horseradish
Marinade for fish or seafood salads
1 tbsp. chopped green onions
1 piece of shallots
1 tbsp of wine or balsamic vinegar
1/2 tsp. mustard
a pinch of dry garlic
2 tbsp of olive oil
salt and pepper
You can also find more recipes on OBOZREVATEL: