Trending:
How to deliciously bake soft potatoes in the peel: an idea from a famous chef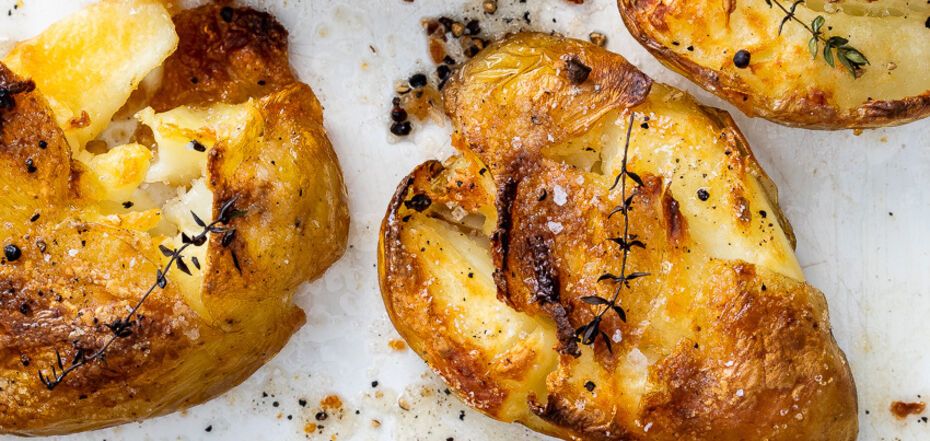 Pressed potatoes with peel in the oven. Source: simply-delicious-food
Deliciously and very quickly bake potatoes can be baked even in the peel. To do this, you will need an ordinary plate. You press the already slightly boiled vegetable, and it will turn out very soft and juicy. A crispy crust will form on top.
The idea of cooking soft baked potatoes in the skin is published on the Instagram page of chef Vadim Brzezinski(pava_vb). A tasty addition will be a simple sauce based on mayonnaise or sour cream.
Ingredients:
potatoes - 1 kg
oil - 30 g
salt, pepper - to taste
Ingredients for sauce:
cucumber - 2 pcs.
green onion, dill
boiled chicken egg - 2 pcs.
garlic - 2 cloves
mayonnaise/sour cream (optional) - 3 tbsp.
Method of preparation:
1. Boil the potatoes in their peel.
2. Gently mash each potato with a plate.
3. Place on a baking tray/pan.
4. Grease with vegetable oil.
5. Add salt, pepper.
6. Bake for 20 minutes at 200 degrees.
7. For the sauce, chop everything, combine with sour cream.
Also on OBOZREVATEL you can familiarize yourself with recipes: