Trending:
How to cook zucchini so that they are tastier than nuggets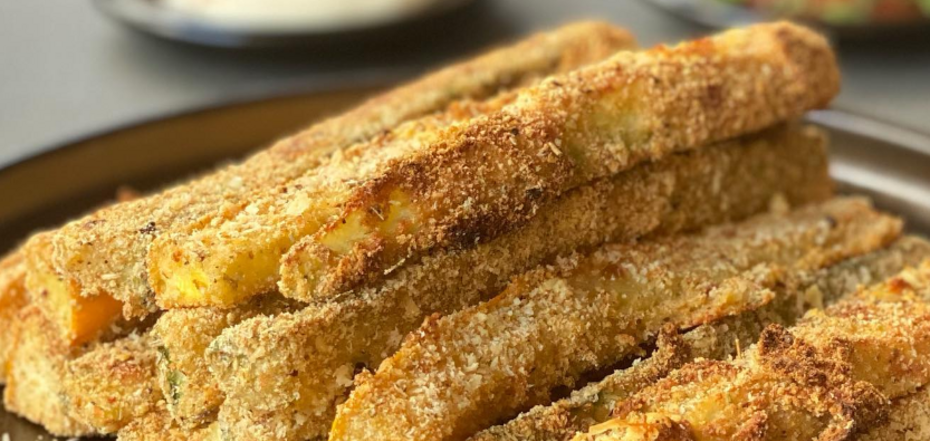 Recipe for breaded zucchini sticks. Source: Screenshot of Yevgeniya Karpyuk's Instagram post
Zucchini are versatile vegetables that will be a great base for many dishes like pancakes, fritters, rolls and cakes. They can even be pickled for the winter.
Food blogger Iryna Kozachuk (irina_kozachuk_) on her Instagram page shared a recipe for delicious zucchini sticks in crispy cheese breading with sour cream sauce, which will taste better than nuggets.
Ingredients:
zucchini - 2 pcs
salt
flour
eggs - 1-2 pcs
breadcrumbs - 8 tbsp. l.
parmesan - 30 g
garlic - 1 tsp.
paprika - 1 tsp.
Italian herbs - 1 tsp.
Sauce:
sour cream - 150 g
garlic - 2 cloves
dill
Method of preparation:
1. Zucchini should be washed and cut into bars (sticks).
2. Mix breadcrumbs, spices (you can use your favorite) and grated cheese for the breading. Prepare a plate with flour and a plate with beaten egg.
3. If the zucchini has released liquid, it is better to drain it. Roll each zucchini first in flour, then in egg and lastly in breadcrumbs. Place on a baking tray lined with parchment.
4. Bake in a preheated oven at 200 degrees Celsius for 15-20 minutes.
5. Add garlic and finely chopped dill to the sour cream and mix for the sauce. If necessary, salt. Done!
Earlier OBOZREVATEL reported how to cook eggplants so that they are tastier than meat.