Trending:
How to cook young potatoes in a new way: idea from a famous chef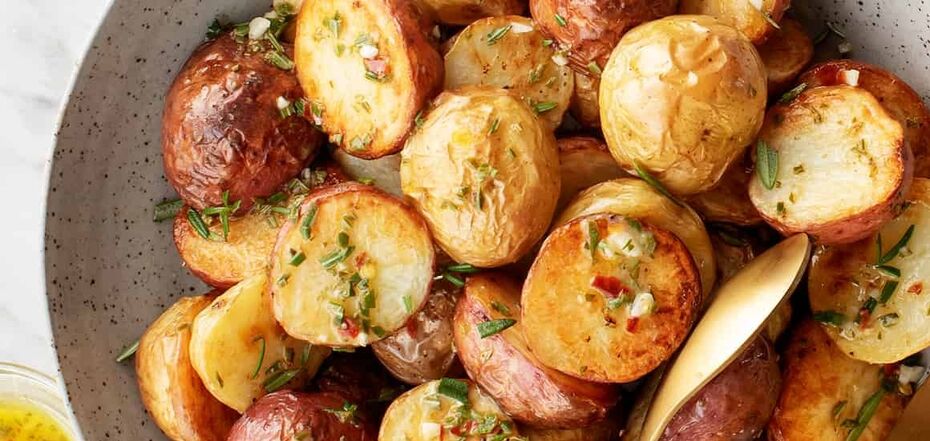 The most original variant of cooking young potatoes. Source: loveandlemons.com
Mundane young potatoes can become a very unusual and interesting dish. To do this, the vegetable should be cooked together with scallions and poppy seeds. A new interesting and authentic flavor comes out.
The idea of cooking young potatoes with scallions and poppy seeds was shared by the famous Ukrainian chef Volodymyr Yaroslavskyi (yaroslavskyi_vova) in Instagram. The technology is unusual, but very simple.
Ingredients:
800 g young potatoes
80 g lard
40 g poppy seeds
3-5 garlic cloves
salt, pepper
herbs (dill)
Method of preparation:
1. Pour cold water over potatoes for 20-30 minutes.
2. Peel with a stiff sponge, removing only the thin skin.
3. Put potatoes into a saucepan, pour cold water over the top, salt, bring to a boil and cook for 20-25 minutes over low heat.
4. Fry the poppy seeds in a dry, well-heated pan for a few minutes and pour them into a bowl.
5. Finely chop the lard, fry it into scallions, then turn down the heat, add small garlic to the lard and fry it on very low heat for 10-15 seconds (garlic should not change color).
6. Take out the potatoes and add them to the scallions.
7. Fry well for a few minutes and add the poppy seeds.
8. Serve all the yushka (fish soup).
Also on OBOZREVATEL you can find recipes for: