Trending:
How to cook perfect chicken broth so that it is rich and lean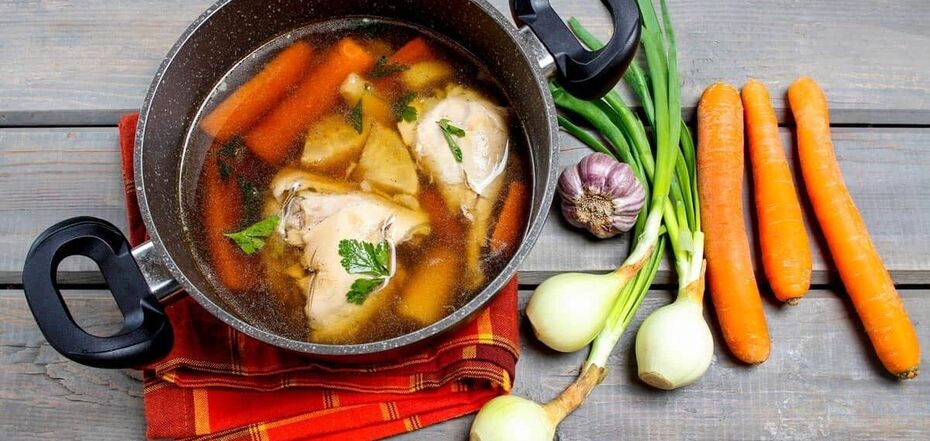 How to make a clear and rich broth. Source: homesteadingfamily.com
Chicken soup is a very nutritious dish that should be added to the diet during a period of vitamin deficiency. But it is important to make the broth clear and rich. To do this, you need to know a few cooking nuances.
The idea of making the perfect chicken broth is published on the Instagram page of a food blogger with the nickname zhuravlina_cooking. The soup will be most delicious in the fall because there are plenty of young and fresh vegetables now.
Ingredients:
potatoes - 5 pcs.
carrots - 1 pc.
onion - 1 pc.
chicken thigh - 1 pc.
optional all-purpose seasoning - 1 tbsp
salt - to taste
bay leaf - 1 large
allspice - 3-4 peas
dill
Method of preparation:
1. Boil the chicken thigh until it is ready and drain the first broth. Pour in clean water and boil the thigh again for 20 minutes after boiling.
2. Remove the thigh from the water 20 minutes later.
3. Add diced potatoes, finely diced carrots and a whole onion to the broth.
4. After boiling, cook for 10 minutes and add finely chopped thigh. Cook until tender for another 20 minutes over low heat.
5. Add bay leaf, pepper, and noodles (spider web) 5 minutes before cooking. You can also add all-purpose seasoning.
6. Add finely chopped dill at the end.
You can also find more recipes on OBOZREVATEL: