Trending:
How to cook delicious homemade rassolnik: recipe for a hearty first dish for lunch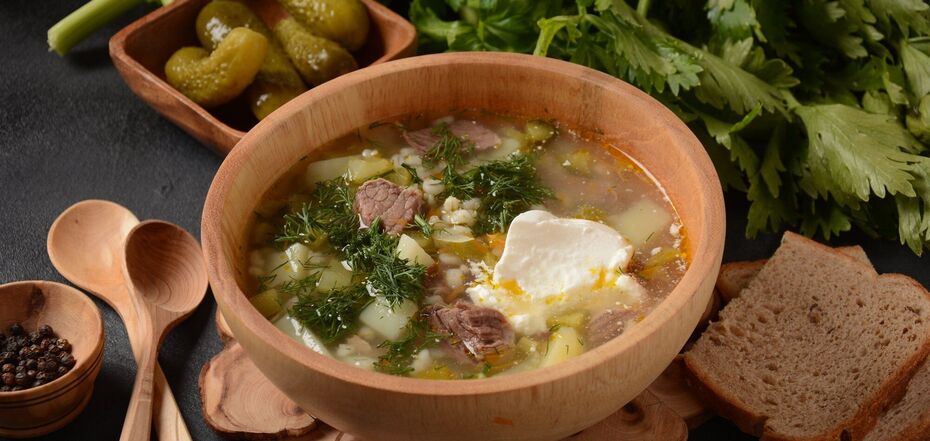 Rassolnik with cucumbers. Source: depositphotos.com
The process of cooking rassolnik is somewhat similar to borsch because every housewife has her own unique recipe. The first dish is usually prepared with or without meat. It goes well with rice, barley, millet, beans and pickles. Most importantly, the soup is rich, flavorful and very satisfying.
Food blogger Yuliana Korolenko shared a recipe for homemade rassolnik on her Instagram page.
Ingredients:
chicken or turkey - 400 g
potatoes - 4 pcs
onion - 1 pc
carrots - 1 pc
pickles - 3 pcs
cucumber brine
tomato paste - 2 tbsp
rice - 100 g
salt, sugar and spices
Method of preparation:
1. First, put the meat in a saucepan, cover with water and boil. Cook until tender.
2. Peel the vegetables, cut the potatoes into cubes and add to the broth.
3. At the same time, rinse the rice and add it after the potatoes.
4. Next, grate the carrots and chop the onion. Fry together in a frying pan until soft.
5. Dice the cucumbers and add them to the vegetables. Simmer for a few minutes.
6. At the end, add tomato paste, brine, salt, sugar and spices to the roast. Simmer for 10 minutes.
7. When the potatoes and rice are almost done, add the roast and spices. Cook for another 15 minutes. Enjoy your meal!
Earlier, OBOZREVATEL reported on three pickle recipes for every taste.