Trending:
How to cook cauliflower in beer batter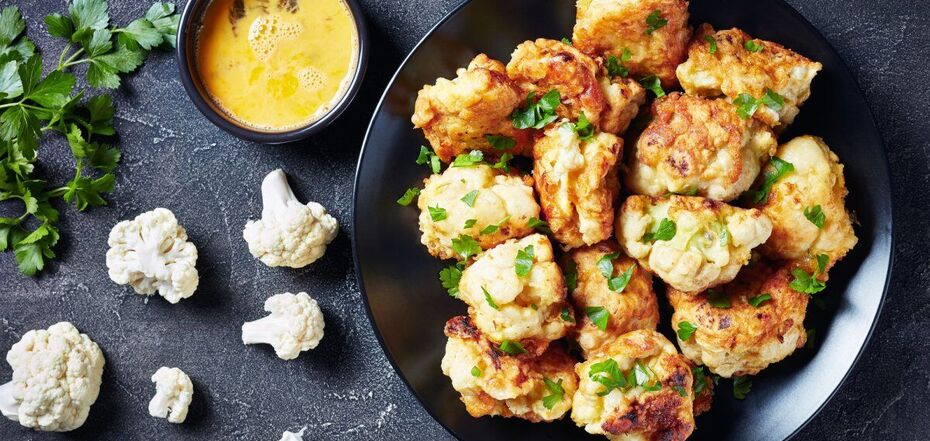 Cauliflower in batter. Source: depositphotos.com
Cauliflower is a healthy vegetable that can be used to prepare a variety of dishes. One of the easiest is to fry or bake it in batter. There is another option besides egg batter.
Food blogger Oleksandra with nickname aleksa_litvish shared a recipe for baked cauliflower in beer batter on her Instagram page.
Ingredients:
Marinade:
olive oil - 2 tbsp.
yogurt - 50 ml
Garam masala spice mix - 1\2 tbsp.
ground coriander - 2 tsp.
sea salt - 1/2 tsp.
Batter:
rice flour - 50 ml
sea salt - 1/2 tsp.
turmeric - 1 tsp.
chili powder - 1 tsp.
chilled beer - 120 ml
Method of preparation:
1. Wash cabbage and divide it into florets.
2. Mix all the necessary ingredients for the marinade in a separate bowl. Pour it over the cabbage and leave it in the refrigerator for 30 minutes.
3. Mix all the ingredients for the batter in a separate bowl and leave in the refrigerator for 15 minutes.
4. At this stage, dip the cauliflower in batter and place it on a parchment-lined baking sheet.
5. Bake for 10 minutes on one side and 10-15 minutes on the other side. Enjoy!
You can also find more recipes on OBOZREVATEL: