Trending:
How to cook Carpathian dumplings called knydli properly: the perfect dish for lunch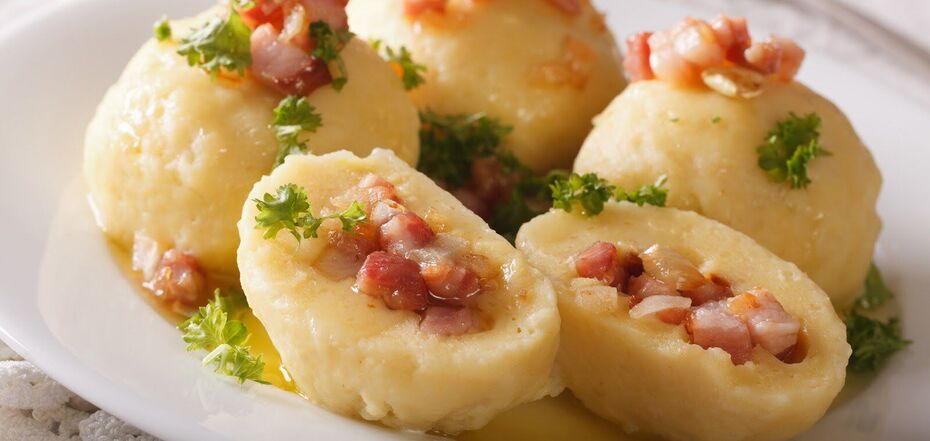 Potato dumplings with meat. Source: monashfodmap.com
Carpathian dumplings or knydli is a traditional Ukrainian dish made from potato dough. The dough is used to wrap meat filling and form products that look like small pies. After boiling, the knydli are very juicy and fluffy.
The idea of cooking knydli with meat was published on the receptuk.ua culinary page on Instagram. The dish is quite hearty, so it should be served with sour cream for lunch.
Ingredients:
1 kg of boiled potatoes
2 eggs
90-100 g of potato starch
salt
Ingredients for the filling:
4 pcs. boiled chicken thighs
1 onion
salt
pepper
Method of preparation:
1. Boil the potatoes in salted water.
2. Cook the thighs in salted water and add bay leaves and black peppercorns.
3. Mash or grate the finished potatoes.
4. Add salt to taste, eggs and starch to the potatoes.
5. Knead the dough.
6. Dice the onion and fry in vegetable oil.
7. Separate the meat from the bones.
8. Add the onion and grind everything in a meat grinder.
9. Then add salt and pepper to the minced meat to taste and mix.
10. Sprinkle the table with starch.
11. Put the dough, knead it a little more and divide it into 2 parts.
12. Roll into a sausage and cut into pieces.
13. Flatten each part with your hands, put the filling in and wrap.
14. Form an oval.
15. Add a little chicken seasoning to the water and bring to a boil.
16. Put some of the dumplings in and stir with a silicone spatula. After they float to the top, cook for another 2-3 minutes. Remove.
17. Serve hot with sour cream or roast (bacon + onions).
You can also find more recipes on OBOZ.UA: