Trending:
How to close cucumbers without vinegar and sterilisation: a recipe for the simplest brine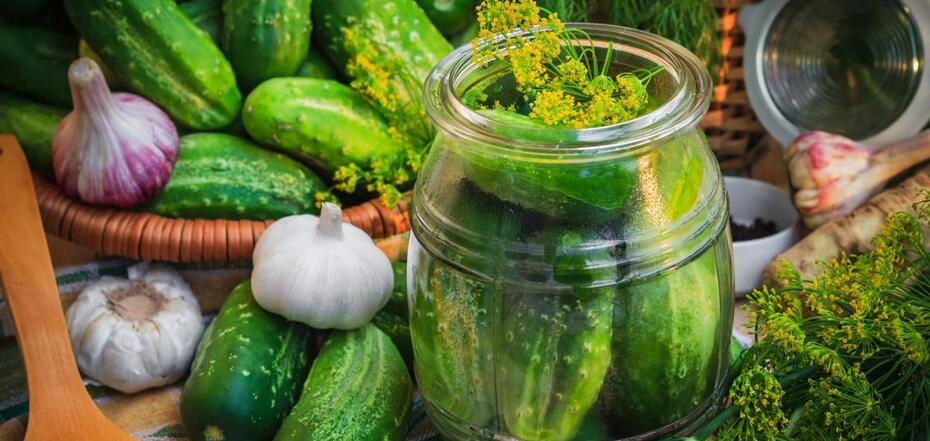 Cucumbers for the winter in a jar. Source: depositphotos.com
Cucumbers for the winter are usually preserved with vinegar. However, you can do without it by using other spicy spices and marinade. If you follow all the recommendations, the cucumbers will be crispy and firm.
One of the blogs (vse_vyroste) on Instagram published a recipe for cucumbers for the winter without vinegar and sterilisation.
Ingredients:
cucumbers
herbs: horseradish leaves, dill umbrellas, cherry and currant leaves
garlic
black pepper in peppercorns
salt (a jar of 3 liters needs 100 g of salt)
water
Method of preparation:
1. Put all the greens on the bottom of clean jars: horseradish, cherry and currant leaves, as well as dill umbrellas. Add a few cloves of garlic.
2. Tamp the washed cucumbers firmly.
3. Put a few more cloves of garlic and black peppercorns on top of the cucumbers. Add salt and fill the jar with water. Leave the cucumbers to ferment for 2-3 days. In the process, foam will form on the surface - this is normal.
4. After 2-3 days, pour the brine from the jars into a saucepan and bring to a boil.
5. Fill the jars with hot brine again and close them with lids. It's ready!
You can also find more recipes on OBOZREVATEL: