Trending:
How to bake delicious chicken thighs with potatoes in one mold: a perfect dinner dish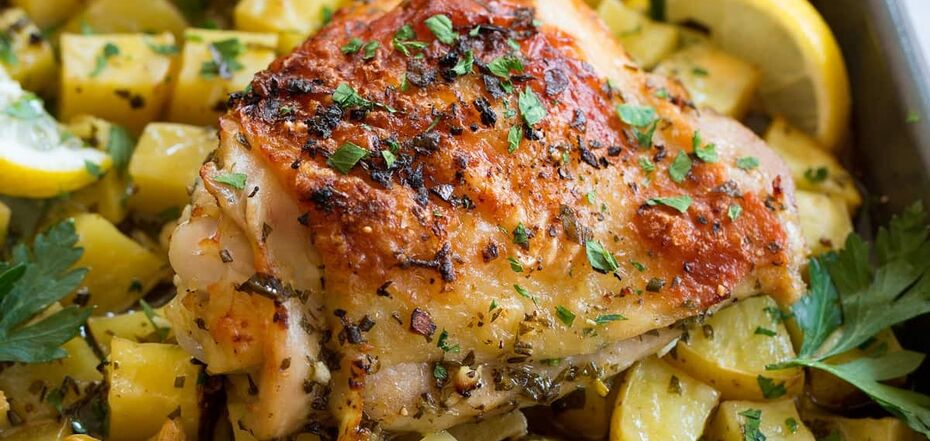 A delicious lunch of meat and potatoes. Source: cookingclass.com
Chicken and potatoes are the perfect combination for a hearty meal. It is best to bake these foods, as it is much healthier than frying. Besides, it takes very little time to prepare the dish.
The idea of cooking chicken thighs with potatoes for lunch was published on the Instagram page of food blogger Tania Sheremet (tania_sheremet_). You can do your business while the dish is baking.
Ingredients:
chicken thighs - 3 pcs.
potatoes - 700 g
onions - 2 pcs
carrots - 1-2 pcs
mushrooms - 200 g
processed cheese - 150-180 g
garlic - 2 cloves
salt, pepper, dry garlic, coriander - to taste
oil for greasing the mold
oil for frying vegetables
Method of preparation:
1. Season the chicken thighs with salt and pepper. Add dry garlic and coriander, mix and set aside.
2. Fry diced onion in vegetable oil until transparent, add grated carrots, fry and transfer to a bowl.
3. Fry the mushrooms separately until the liquid evaporates, transfer to the vegetables, add processed cheese, salt and pepper to taste and mix.
4. Boil the potatoes until half cooked, cool, cut into slices and put them in a buttered baking dish. Salt the potatoes to taste, add chopped garlic and mix.
5. Put the fried vegetables on the potatoes and top with the chicken thighs.
6. Put in the oven at 180 degrees for 1 hour.
You can also find more recipes on OBOZREVATEL: