Trending:
How to bake chicken fillet to make it soft and juicy: the easiest way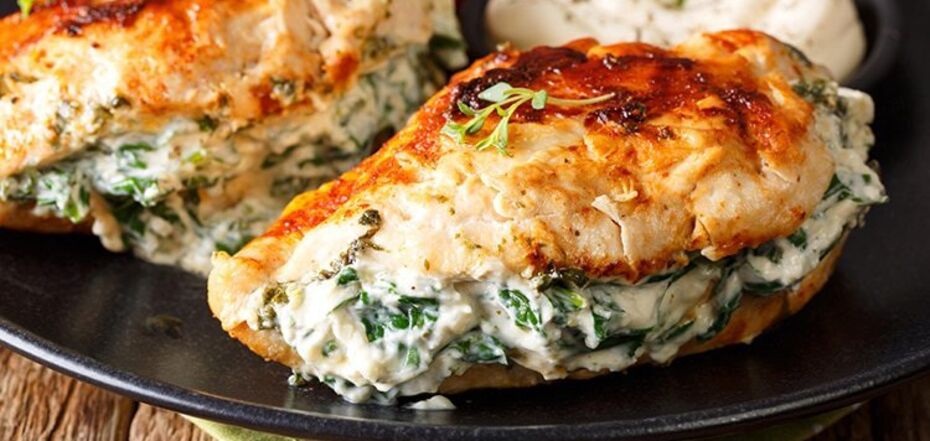 Juicy and soft chicken fillet in the oven. Source: mealplannerpro.com
Diet and dry chicken fillet can be made very soft and juicy. To do this, you will need a lot of cheese filling and tomatoes. The breast turns out to be very tender, with an appetizing golden crust formed on top.
The idea of cooking juicy chicken fillet in the oven is published on the Instagram page of food blogger Iryna Dymytrova (iriska_dimitrova). Herbs and seasonings add a special spicy flavor.
Ingredients:
2 chicken fillets
chicken seasoning
2 tsp. olive oil
180 g mozzarella
120 g sour cream
salt
herb mixture
tomato
Method of preparation:
1. Make incisions in the chicken fillets to form a pocket.
2. Sprinkle with chicken seasoning and drizzle with olive oil.
3. Rub well on all sides and leave for 10-15 minutes.
4. Add the sour cream, salt and Italian herb mixture to the grated mozzarella.
5. Stir.
6. Fill the pockets with the cheese mixture and close them.
7. Transfer to parchment and form into boats.
8. Place the tomato slices on top of the fillets.
9. Spread the rest of the curd mixture over the tomatoes.
10. Bake in the oven for 30-35 minutes at 190 degrees.
Also on OBOZREVATEL you can read the recipes: