Trending:
Homemade honey cake with sour cream that will conquer hearts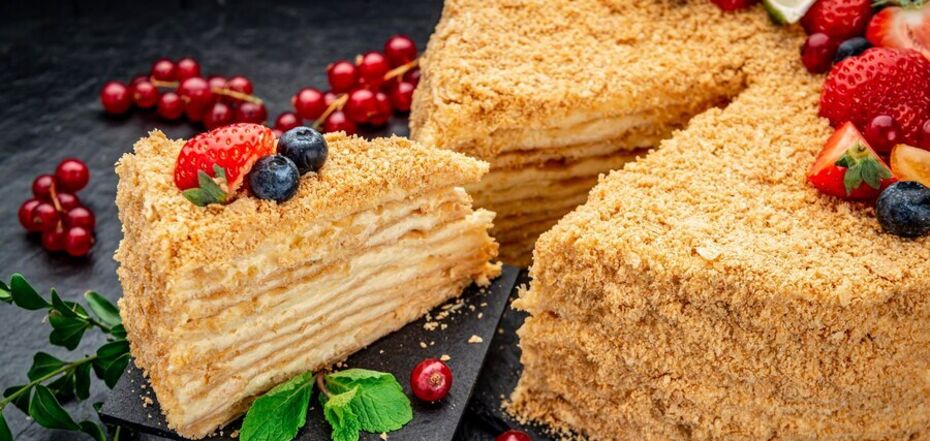 Homemade honey cake. Source: freepik.com
Homemade honey cake with sour cream is an exceptionally simple, quick, and at the same time delicious dessert. It is based on thin cakes with a honey flavor combined with airy cream, which makes it light and tender.
One of the culinary blogs (@smachni_receptu_blogeriv) posted a recipe for homemade honey cake with sour cream on Instagram.
Ingredients:
100 g. honey
120 g. sugar
120 g. butter
1 egg
Soda 1 tsp
380 g. flour
Method of preparation:
1. Mix butter and honey. Heat in the microwave until liquid.
2. Beat an egg with sugar, add butter and honey and mix.
3. Mix flour with baking soda, add to the main mass and mix.
4. Divide the dough into 8-9 pieces and wrap each piece in plastic wrap. Put in the refrigerator for 1.5-2 hours.
5. Sprinkle each cake with flour and roll out a circle with a diameter of 18 cm.
6. Pierce the cake with a fork and bake at 180 degrees until golden brown.
Ingredients for the cream:
Sour cream 900 ml.
Powdered sugar 130 g.
Method of preparation:
1. Whip the sour cream with the powdered sugar until it thickens. It should drain very slowly when you run a whisk over the cream.
2. Assemble the honey cake. Put the cake layer on a cake plate, spread with sour cream, top with another layer, and so on. Spread the edges of the cake with cream well.
3. Make crumbs to decorate the cake. Put the scraps from the cakes on the parchment, cover with a second piece of parchment, and crush with a rolling pin.
4. Sprinkle the crumbs on all sides. Put it in the refrigerator for at least 15 hours (better overnight) to soak well.
You can also find recipes on OBOZREVATEL: