Trending:
Homemade diet shawarma in 20 minutes: recipe for a hearty snack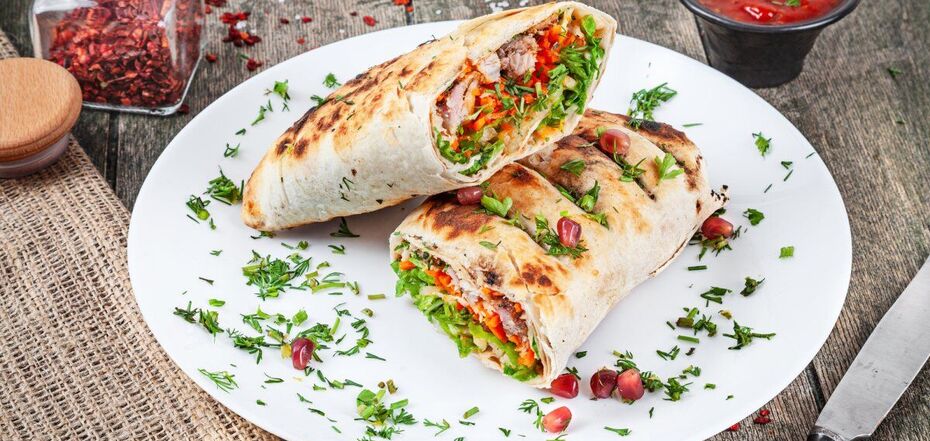 Diet shawarma. Source: depositphotos.com
Shawarma is a popular pita bread dish that is very easy to make at home. To make it juicy, choose the right meat for the filling: chicken or turkey. You should also add a good sauce.
Food blogger Alex Mil (mil_alexx) shared a recipe for a light and dietary shawarma with meat on his Instagram page.
Ingredients:
pita bread - 3 pcs.
Chinese cabbage - 80 g
tomatoes - 60 g
turkey fillet - 600 g
vegetable oil - 12 g
yogurt - 2 tsp.
lemon juice - 1 tsp.
salt, pepper
paprika
spices for chicken
garlic - 2 cloves
Sauce:
mayonnaise - 3 tbsp. l.
yogurt - 3 tbsp
salt
honey - 1 tsp.
garlic - 2 cloves
lemon juice
Marinating onions:
onions - 70 g
vinegar - 1 tbsp
sugar - 1 tsp.
Method of preparation:
1. Chop onion and marinate with vinegar, sugar and boiling water. Leave for 15 minutes.
2. Chop meat, add yogurt, oil, lemon juice, garlic, salt, pepper, paprika and chicken spices. Mix everything and fry over medium heat for 5-7 minutes on both sides until golden brown.
3. To prepare the sauce, mix yogurt, mayonnaise, honey, lemon juice, garlic and salt.
4. Grease a sheet of pita bread with the sauce, put Chinese cabbage, meat, tomatoes and onions, pour the sauce over everything again and form a shawarma. Fry it on the grill or in a frying pan. Enjoy your meal!
You can also find more recipes on OBOZREVATEL: