Trending:
Homemade apple and plum jam like marmalade: a recipe for an incredible dessert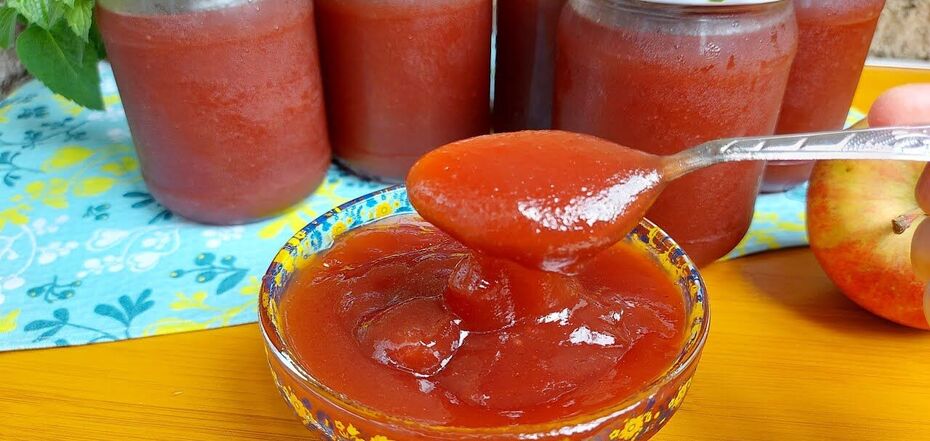 Homemade thick jam for the winter. Source: Screenshot from a YouTube video
Homemade jam is a delicious standalone dessert, as well as a filling for pies and pastries. It can be made from apples, plums, cherry plum, strawberries, and pears, and can be supplemented with aromatic spices and citrus fruits.
One of the culinary blogs (Anna Pylypyuk.Grandma's tips) published a recipe for apple jam with plums on YouTube.
Ingredients:
apples - 3 kg
plums - 3 kg
sugar - 4 kg
Method of preparation:
1. First, wash and pit the plums. Put them in a saucepan, put on low heat, bring them to softness and let the juice run out.
2. Remove the cooked plums from the saucepan with a slotted spoon and transfer to another container, but do not pour out the juice. Whip the plums with an immersion blender.
3. Next, prepare the apples. To do this, peel and core them, cut them into slices.
4. Put the prepared apples in a saucepan with plum juice. Boil them until they are soft.
5. Beat the boiled apples with an immersion blender.
6. At this stage, mix the two masses together. Stir and put on a low heat, bring to a boil and add all the sugar by 1 kg. Bring to a boil again and cook for 30-40 minutes.
7. Put the hot jam in jars, put the jars in a saucepan and sterilize for 10 minutes. However, you can do without this step and immediately roll up the jars with lids, turn them upside down, and wrap them in something warm. You're done!
You can also find more recipes on OBOZREVATEL: