Trending:
Hearty zucchini rolls in minutes: what to make the filling from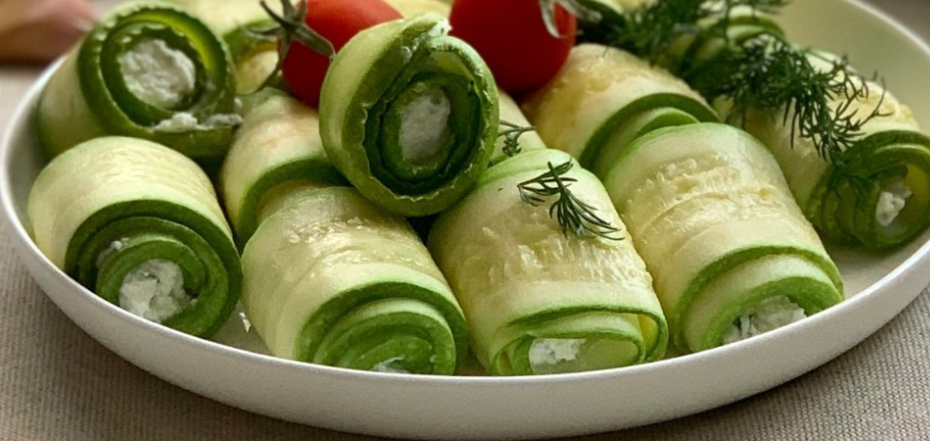 Zucchini rolls on short notice. Source: rud.ua
When it comes to quick and simple appetizers in the summer - it is zucchini is quite often the main ingredient for such dishes. From such a vegetable you can make elementary rolls. In zucchini fried slices simply wrapped curd filling. It also comes out very budget-friendly.
The idea of making hearty zucchini rolls is published on the cooking page of food blogger Elena(cooking_is_easy__) in Instagram. It comes out very tasty if you add a lot of fresh herbs.
Ingredients:
2 small or 1 medium zucchini
1-2 eggs
batter flour
80-100 g hard cheese
herbs
2 tomatoes
1 garlic clove
2-3 tbsp. sour cream or mayonnaise
salt, pepper
frying oil
Method of preparation:
1. First cut zucchini into thin slices, salt.
2. Leave for 10 minutes to drain off excess liquid.
3. Fry the zucchini, first coating in flour and egg.
4. Place on a paper towel to collect excess oil.
5. Make the stuffing: grate cheese, add sour cream or mayonnaise, chopped herbs and garlic.
6. Mix everything well.
7. Cut tomatoes in half, remove the middle (we don't need it), chop into cubes.
8. Put cottage cheese filling and tomato cubes on cooled zucchini and twist into rolls.
Also on OBOZREVATEL you can familiarize yourself with recipes: