Trending:
Hearty minced meatballs for lunch: what to add besides meat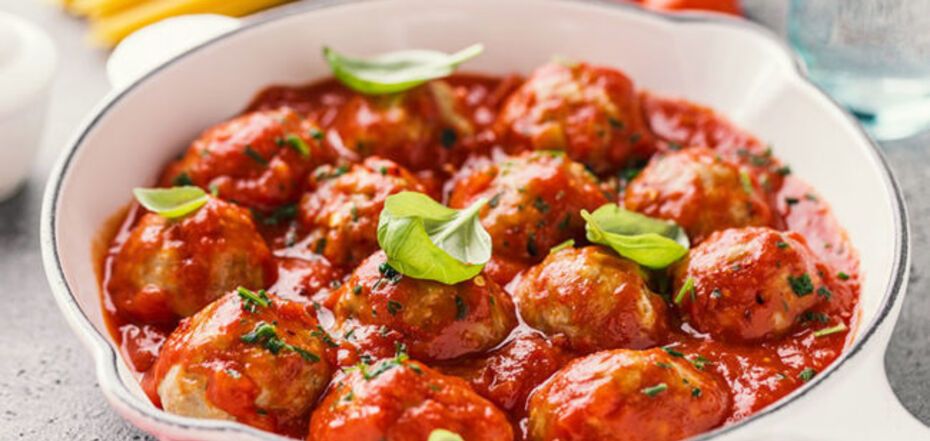 Delicious meatballs that keep their shape. Source: clevelandclinic.org
For a tasty and satisfying lunch, minced meatballs are perfect. They can be served with absolutely any side dish: potatoes, porridge or pasta - every time you get a new dish. And to make the products plump and hold their shape, add rice to the minced meat.
The idea of cooking meatballs with rice for a hearty lunch was published on the Instagram page of a food blogger with the nickname zhuravlina_cooking. The products are very flavorful.
Ingredients for meatballs:
minced meat - 500 g
rice - 100 g
carrots - 1/3 pcs as desired
onion - 1-2 pcs.
egg - 1 pc.
garlic - 3 cloves
salt - 1 tsp
black pepper - 1/2 tsp.
flour - 2 tbsp.
Ingredients for the gravy:
carrots - 1 pc.
onion - 2 pcs.
pepper - 1 pc.
oil for frying
sour cream - 2 tbsp
tomato paste - 1 tbsp. with a slide
sugar - 1 tsp.
salt - 1 tsp (to taste)
black pepper - 1/2 tsp.
flour - 1 tbsp
hot water - 500 ml
Method of making meatballs:
1. Put the minced meat in a deep bowl.
2. Add finely chopped onion and garlic, egg, slightly cooked semi-raw rice (drain it), salt and pepper.
3. Mix well.
4. Beat off the mixed minced meat several times to get the excess air out. After that, the moisture will be evenly distributed and the meatballs will hold their shape well.
5. Moisten your hands and form balls.
6. Roll in flour and place on a plate.
7. Chop the vegetables, put them in a frying pan heated with oil.
8. Add sour cream and tomato paste, spices and flour.
9. Pour in hot water.
You can also find more recipes on OBOZREVATEL: