Trending:
Hearty lazy stuffed cabbage for children in a pan in 30 minutes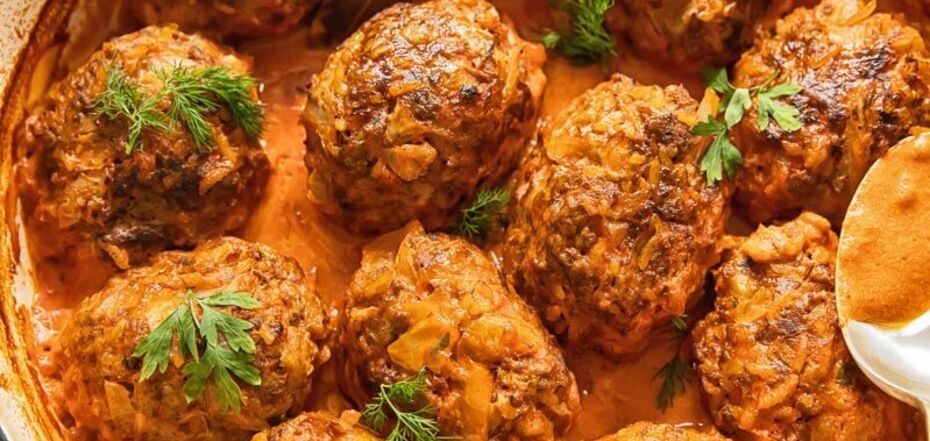 Juicy lazy stuffed cabbage for lunch in a frying pan. Source: vikalinka.com.
Tasty and hearty stuffed cabbage can be cooked directly in a frying pan. You don't have to steam the cabbage, because you can simply grate it. The dish turns out low-fat and juicy, so it is ideal for children for lunch.
The idea of cooking delicious lazy stuffed cabbage for lunch for children is published on the page of a food blogger with the nickname moireceptuforeva on Instagram. It is ready in just 20-30 minutes.
Ingredients for 2 servings:
3 tbsp. rice
1 small chicken egg
3 tbsp. minced meat
2 tbsp. grated carrots
4 tbsp. grated cabbage
half a small onion
Ingredients for the sauce:
150 ml. water
1 tbsp. tomato paste
1 tbsp. sour cream
1 tsp. flour
salt, oregano pepper, bay leaf
Method of preparation:
1. Boil rice until half-cooked and drain water.
2. Add minced meat, medium-grated vegetables and chopped onion to the rice.
3. Add salt and egg and mix well.
4. Form 4-6 patties, place in a frying pan or in a saucepan.
5. To make the sauce, mix water, tomato paste, sour cream and flour. Season with salt. Pour over stuffed cabbage and add spices.
6. Stew under a lid over low heat for about 20-30 minutes.
Also on OBOZREVATEL you can read the recipes: