Trending:
Healthy pickled cabbage and pepper salad that can be eaten the next day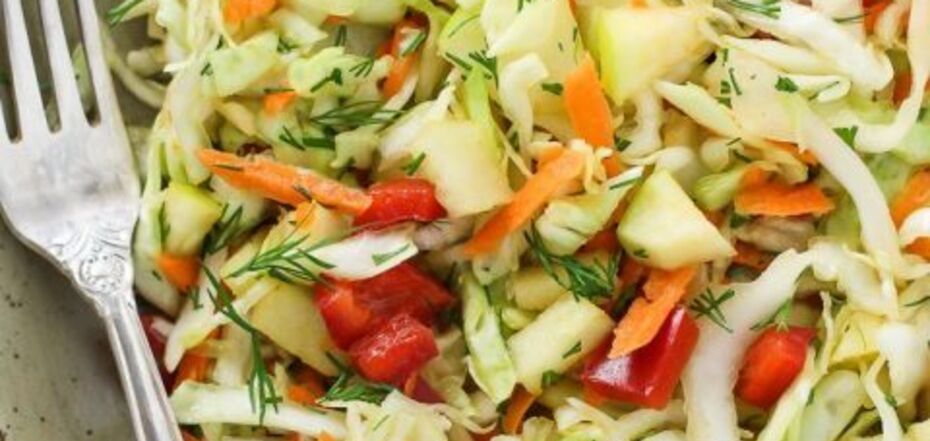 Delicious vitamin salad with cabbage and peppers. Source: mariaushakova.com
The period of avitaminosis is in its full swing. Fortunately, there are still many delicious and healthy vegetables that will help protect the body. They can be simply chopped and combined in a pickled salad. TYou can eat it with different porridge and meat.
The idea of preparing a vitamin salad of cabbage and peppers is published on the Instagram page of food blogger Vita with the nickname vitala_foodblog.
Ingredients:
5 kg of cabbage
1 kg carrots
1 kg onion
1 kg sweet pepper
200 g sugar
4 tbsp. salt
300-350 ml of 9% vinegar
300-350 ml oil
Method of preparation:
1. The cabbage should be juicy and fresh. It needs to be chopped.
2. Cut onions into half rings and grate carrots with a Korean carrot grater. Cut the pepper into straws.
3. Mix the vegetables and season with the remaining ingredients.
4. Put into three-liter jars.
5. Pour the juice from the vegetables.
6. Close with plastic lids. It can also be stored in plastic buckets.
7. You can eat it immediately, but it is better to marinate it at least twenty-four hours. The salad is well stored in the basement or in the refrigerator until the end of winter. It is perfectly preserved until the end of winter.
Also on OBOZREVATEL you can read the recipes: