Trending:
Healthy carrot fritters for breakfast: they turn out loose and hearty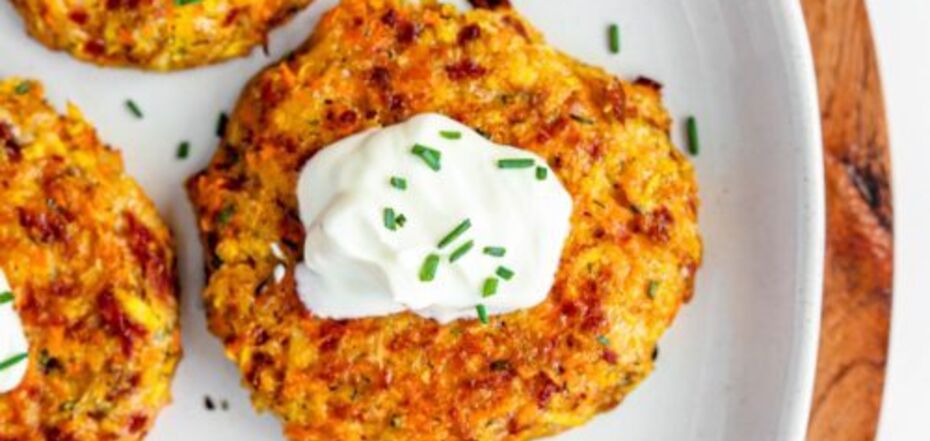 Healthy carrot fritters for breakfast. Source: honestgrubhonestfoodie.com.
Juicy young carrots are already available in many stores and markets. It is a base for tasty and hearty fritters. They are ideal for a nutritious breakfast.
The idea of cooking juicy carrot fritters for breakfast is published on the page of food blogger Victoria with the nickname kusja_ on Instagram. The carrot dough turns out quite thick and holds its shape perfectly.
Ingredients:
carrots - 120 g (2 pcs of medium size)
hard cheese - 50 g (if you don't have a scale, take a small piece about the thickness of a thumb)
leavening agent - 6 g (full tsp.)
flour - 150 g (15 tbsp.)
eggs - 1 pc
milk - 120 ml (12 tbsp.)
butter - 30 g (4 tsp.)
spices - to taste
Method of preparation:
1. Grate carrots finely, add egg and warm milk (not too hot), mix.
2. Beat with a blender until smooth. If you don't have a blender, you can skip this step. The texture will be less uniform, but the flavor will not be affected in any way.
3. Sift the flour and mix with the spices and baking powder.
4. Stir in the carrot mixture gradually. Finally pour in the melted butter and add the cheese. The cheese can either be cut into small pieces or grated.
5. Leave the mixture for 10-15 minutes, covered with a towel.
6. Fry on both sides on a dry frying pan until golden. If the frying pan is not non-stick, the fritters will burn. Therefore, you need to pour some vegetable oil.
7. Serve with sour cream or white yogurt.
Also on OBOZREVATEL you can find recipes for: